Miniscopes
The Computational Miniature Mesoscope (CM2)
The Computational Miniature Mesoscope (CM2) project aims to enlarge the imaging field-of-view (FOV) of miniature fluorescence microscopes reaching cortex-wide while still maintaining cellular resolution.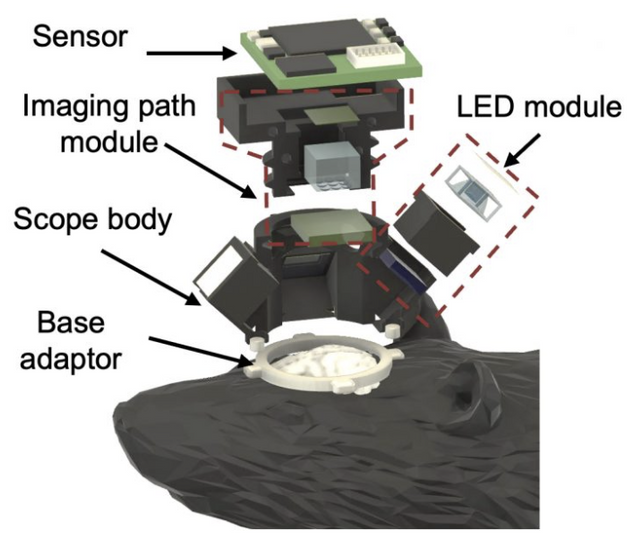 Developed by the Computational Imaging Systems Lab (CISL) led by Prof. Lei Tian, in collaboration with Neurophotonics Center members, Profs. Ian G. Davison and David A. Boas, the CM2 is a computational imaging device with single-shot 3D imaging capability. The CM2 is built from off-the-shelf and 3D-printed components. Its unique imaging capability is enabled by computational imaging which arguments optics with algorithms. We envision the CM2 platform as the next-generation wearable fluorescence microscope that opens up new exciting opportunities in large-scale in-vivo 3D neural recording and neuroscience applications.
Learn more about the CM2 here and please contact Prof. Lei Tian for further information. 
The Original BU Miniscope
The miniscope project provides a modular in-vivo optophysiology rig for awake, freely behaving animals. It allows researchers to wirelessly and non-invasively monitor neural activity over multi-month periods.
Developed by William Liberti of Boston University's Gardner Lab, the miniscope is a single-photon fluorescent imaging system made of a combination of readily available and 3-D-printed parts. Though it was originally designed for the study of zebra finch mating songs (lending it the alternative title "FinchScope") the miniscope has been adapted to fit rodents and other types of birds. The project's stated goal is "to produce a customizable and scaleable single-photon fluorescent imaging microscope system that takes advantage of developing open-source analysis platforms."
Learn more about miniscopes here and visit the project's GitHub page.
Please contact Dan Leman or William Yen if you need further assistance.