Period
324-638: Byzantian Aelia
Location
Location Info 1
Link to Map Index
Demography & Economy
Link 1
Political History
Link 1
Religion & Culture
Byzantian Studies Resources (from Fordham University)
Link 2
Sources
Link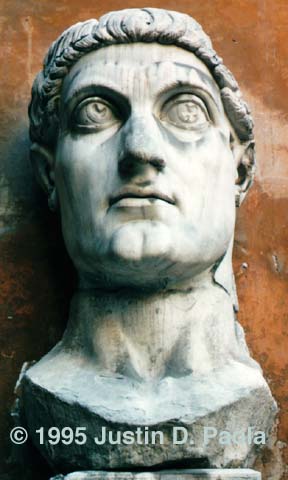 In 324 Emperor Constantine (later known as "the Great") controls the entire Roman empire. The commemorative churches and basilicas he and his mother, Empress Helena, create in Aelia transform the city into a vivid representation of the life of Christ.
The most impressive building is the Anastasis, marking the place where the resurrection of Christ is believed to have taken place. Jerusalem is once again a 'holy city', a magnet to pilgrims from around the Christian world.
With the exception of the reign of Julian (361-363) and the brief interlude of Persian rule (614-17), Jews were banned from entering the city until the advent of Islam, when they were readmitted.
(Image: Emperor Constantine. Source: http://www.thepaolas.com/Emperors/
emperors_more.html)