Ziegenbalg, Bartholomäus (1682-1719)
Pioneer German missionary in South India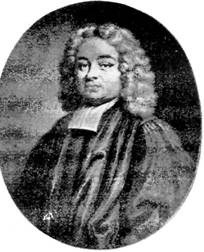 Ziegenbalg, the prototype of German pietist Lutheran missionaries, was born in Pulsnitz, Saxony. He had a conversion experience while in high-school, after the early loss of his parents. Repeated illness and inner conflicts interrupted his studies at Berlin and Halle. But under the guidance of the pietist leaders Joachim Lange and A. H. Francke, he underwent a demanding program of studies, including Greek and Hebrew, which was to stand him in good stead in India. When King Frederick IV of Denmark found little Danish interest in taking up mission work among non-Christians subjects overseas, he instructed his German court chaplain Franz J. Lütkens to find suitable candidates in Germany. After consultation with Lange, Lütkens was soon able to present Ziegenbalg and his fellow student Heinrich Plütschau, who were ordained at Copenhagen and arrived at the Danish trade establishment of Tranquebar, South India, on July 9, 1706. The mission depended in its formative years primarily on Ziegenbalg's creative vision and ability. There was no end of difficulties, and Ziegenbalg's own impetuosity was at least partly responsible. Yet often he seemed to grow under pressure, not least on account of his practice of dealing with unforeseen challenges by intensive prayer and by accounting for his actions in incredibly extensive reporting and correspondence.
There was, first, the challenge of the local languages — Portuguese and, more urgently, Tamil. With the assistance of indigenous helpers, Ziegenbalg quickly acquired command of both the spoken and the written forms of Tamil, prepared dictionaries, published a grammar (1716), and collected Tamil manuscripts. He thus became a pioneer in the Western study of South Indian culture, society, and religion, although three of his translations and his two major works on Hindu religion remained unpublished for a long time as they did not meet with approval at Halle. His translation of the Bible, on the other hand — the whole New Testament, for the first time in any Indian language, and the Old Testament up to the book of Ruth, was printed at Tranquebar on Tamil press sent out from Halle. Tamil hymnbooks, catechisms, and other Christian literature followed. Schools for boys and girls were established, and a seminary for the preparation of Indian assistants was opened. All this underscored Ziegenbalg's conviction that the indigenous church would be Lutheran in faith and worship but Indian in character. However, a dispute over policy with the Danish mission secretary, Christian Wendt, undoubtedly contributed to his sudden death in 1719, before he had completed his thirty-sixth year. Much later it would be recognized that with him "a new epoch in the history of the Christian mission had begun" (Stephen Neill).
Hans-Werner Gensichen, "Bartholomäus Ziegenbalg," in Biographical Dictionary of Christian Missions, ed. Gerald H. Anderson (New York: Macmillan Reference USA, 1998), 761.
This article is reprinted from Biographical Dictionary of Christian Missions, Macmillan Reference USA, copyright © 1998 Gerald H. Anderson, by permission of Macmillan Reference USA, New York, NY. All rights reserved.
Bibliography
Primary

Ziegenbalg, Bartholomäus. Genealogy of the South Indian Deities: An English translation of Bartholomäus Ziegenbalg's original German manuscript with a textual analysis and glossary. Translated and edited by Daniel Jeyaraj. London: Routledge Curzon, 2005.
Secondary

Jeyaraj, Daniel. Der Beitrag der Dänisch-Halleschen Mission zum Werden einer indisch-ein-heimischen Kirche, 1706-1730. Erlangen: Verlag der Ev.-Luth. Mission, 1996.
Lehman, E. A. It Began at Tranquebar: the Story of the Tranquebar Mission and the Beginnings of Protestant Christianity in India. Published to celebrate the 250th anniversary of the landing of the first Protestant missionaries at Tranquebar in 1706. Translated from the German by M. J. Lutz. Madras, India: Christian Literature Society on behalf of the Federation of Evangelical Lutheran Churches in India, 1956.