Kumm, (Hermann) Karl Wilhelm (1874-1930) and Lucy Evangeline [Guinness] (1865-1906)
Founders of the Sudan United Mission (SUM)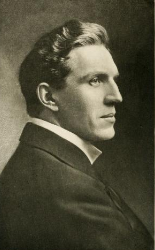 Kumm, born in Wiesbaden, Germany, felt called to missionary work among Muslims. He was serving with the North Africa Mission in Egypt when, in 1899, he met Henry Grattan Guinness, the celebrated evangelist, and his daughter, Lucy. Lucy Guinness was known as a writer and editor, and a Christian worker in London's East End. She and Kumm were married in Cairo early in 1900; two sons were born, in 1901 and 1902. In 1901 the Sudan Pioneer Mission was begun; in 1904 Karl Kumm and two others left for Tripoli to study Hausa. In 1904 Lucy, in England with her children, convened a meeting of supporters for the work, renamed the Sudan United Mission. Karl completed a fact-finding expedition to the Upper Benue River area, spent Christmas 1905 with his family in England, and soon afterwards left for the United States, where Lucy and her sons joined him at Northfield, Massachusetts, nearby D. L. Moody's conference center. In July 1906 he left for the Sudan, and shortly afterward in Northfield, Lucy suffered a miscarriage and died as a consequence. Lucy's sister, Geraldine Taylor, took care of the children until Kumm's remarriage in 1911. The work of the mission continued and expanded, with branches in British Commonwealth countries, Europe, and the United States. Kumm continued as its leader and director until 1924; in 1925 he retired to California. Today the society founded by the Kumms is known as Action Partners—Christians Reaching the World. The largest national churches arising from the work of SUM are the Church of Christ in Nigeria and the Sudanese Church of Christ (Nuba Mountains, Sudan).
Jocelyn Murray, "Kumm, (Hermann) Karl Wilhelm and Lucy Evangeline (Guinness)," in Biographical Dictionary of Christian Missions, ed. Gerald H. Anderson (New York: Macmillan Reference USA, 1998), 378.
This article is reprinted from Biographical Dictionary of Christian Missions, Macmillan Reference USA, copyright © 1998 Gerald H. Anderson, by permission of Macmillan Reference USA, New York, NY. All rights reserved.
Bibliography
Digital Texts

Kumm, H. Karl W. African Missionary Heroes and Heroines. New York, Macmillan Co., 1917.
_____. From Hausaland to Egypt, through the Sudan. London: Constable and Co., 1910.
_____. Khont-hon-Nofer, the Lands of Ethiopia. London, Edinburgh: Marshall Brothers, Ltd., 1910.
Kumm, H. Karl W. and Lucy Evangeline Guinness Kumm. The Sudan: A Short Compendium of Facts and Figures about the Land of Darkness. London: Marshall Bros., [1907?].
Kumm, Lucy Evangeline Guinness. Across India at the Dawn of the 20th Century. London: Religious Tract Society, 1898.
Millard, Edward C. and Lucy Evangeline Guinness Kumm. South America, the Neglected Continent: Being an Account of the Mission Tour of G.C. Grubb, and Party, in 1893, with a Historical Sketch and Summary of Missionary Enterprise in these Vast Regions. New York: F.H. Revell Co., 1894.
Primary

Kumm, H. Karl W. The Destiny of the Empire. Belfast: Graham & Heslip, [19–?].
_____. Versuch einer wissenschaftlichen Darstellung der wirtschaftsgeographischen Verh ältnisse Nubiens von Assuan bis Dongola. Zusammengestellt nach d. Angaben von Reisenden u. staatl. Statistiken, sowie nach eigenen Untersuchungen. Gotha: Engelhard-Reyher, 1903. [Kumm's dissertation]
_____. O Love that Will Not Let Me Go: A New Year's Dream. London: Marshall Bros., [19–?].
Kumm, Lucy Evangeline Guinness and William J.W. Roome. Pioneer Missionary Songs. London: Marshall, [1907]. [In the Wheaton College Evangelism and Missions Collection, Wheaton, IL, USA; in the Colombia University Libraries collection, New York City, NY, USA]
Secondary

Cleverdon, Irene V. Pools in the Glowing Sands: The Story of Karl Kumm. Melbourne: Specialty Press Pty. Ltd., 1936.
Guinness, H. Grattan. Lucy Guinness Kumm: Her Life Story. London: Morgan & Scott, [1907].
Guinness, Michele. The Guinness Legend. London: Hodder & Stoughton, 1989.
Maxwell, J. Lowry. Half a Century of Grace: A Jubilee History of the Sudan United Mission. London: Sudan United Mission, 1954.
Royal Geographical Society (Great Britain). "Route of Dr. Karl Kumm across Africa from the Niger to the Nile, 1908-1909." 1910. [1 map, color; 29 x 42 cm., on sheet 34 x 47 cm; at the University of Chicago Library, Chicago, IL, USA]
Sauer, Christof. Reaching the Unreached Sudan Belt: Guinness, Kumm, and the Sudan-Pioneer-Mission. Nürnberg: Verlag für Theologie und Religionswissenschaft, 2005.
Spartalis, Peter. Karl Kumm: Last of the Livingstones: Pioneer Missionary Statesman. Bonn: Verlag für Kultur und Wissenschaft, 1994.
Portrait

Kumm, H. Karl W. From Hausaland to Egypt, through the Sudan. London: Constable and Co., 1910. Frontispiece. Public domain.