MSCIS Security Student Leads BU MET Team in Impressive Cybersecurity Competition Outing
On Saturday, March 18, Olga Vasilaki, who is studying to earn her Master of Science in Computer Information Systems with a concentration in Security, led BU MET's team in the annual National Centers of Academic Excellence in Cybersecurity Cyber Games Competition, sponsored by the US National Security Agency.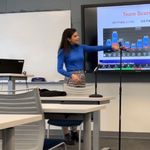 The all-day event saw the seven-person team, joined by Cybersecurity Director Yuting Zhang, build and maintain a fully functional computer network—including a MySQL database server, web server, multiple external and internal Linux VMs, backup server, DNS server, Shell/FTP server, and a router—and to defend it from cyber attackers while scoring points by securing virtual flags.
"As a team, we learned how to work under pressure, exchange ideas and how to configure and maintain systems," Vasilaki said in a LinkedIn post.
The team placed fourth overall in the competition and third in its infrastructure section. The following week, Vasilaki shared her experience with fellow BU MET students at a meeting of its new club for cybersecurity mavens.
"This competition was one of the best experiences I've had during my master's program," she said. "Personally, I will be evolving and enriching the skills I acquired through this competition in the future while securing/building web and cloud services when troubleshooting security issues."
Please join BU MET in congratulating our representatives at this event!