MET's Urban Adaptation Expert Helps Prep University for Climate Events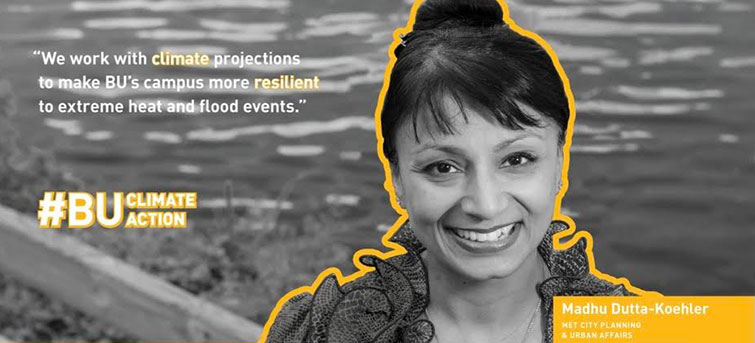 As part of BU's Climate Action Plan Task Force, Dr. Madhu Dutta-Koehler, director of the MET City Planning & Urban Affairs programs and associate professor of the practice, is applying her expertise in urban resilience to help devise plans for the University to weather potential high-impact weather events affecting the Charles River campus.
Dutta-Koehler, whose most recent research delves into climate adaptation in mega-cities, says the work—and the foresight required to take on the challenge—is part of what makes Boston University a leader in the field of urban planning and sustainability. "Unlike a lot of major research universities, BU in its action has shown that it deeply cares for its community, and the environment, and the city that it is in," Dutta-Koehler says in a recent video. "And I am really proud to be a part of that."
Watch a video of Associate Professor Dutta-Koehler discussing her work with the Climate Action Task Force below, and learn more about #BUClimateAction here.