BU Professors Discuss Security, Disinformation with CIA Director John Brennan
MET Senior Associate Dean Lou Chitkushev and finance Professor Irena Vodenska, chair of the Department of Administrative Sciences, attended a private reception and dinner with former CIA Director John Brennan on Wednesday, November 2, at the Lenox Hotel in Boston. The event, hosted by the Boston Speaker Series, preceded Director Brennan's lecture at Symphony Hall.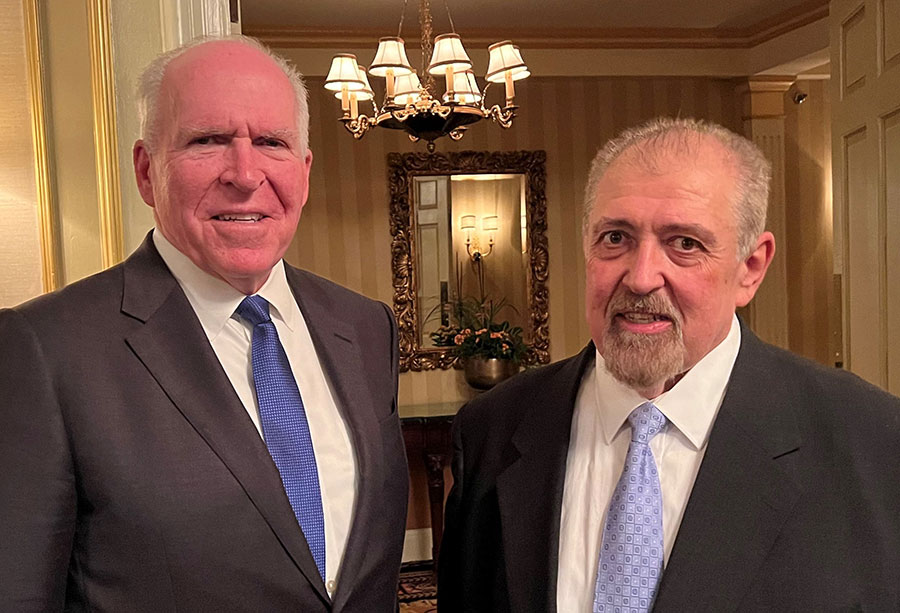 Former CIA Director John Brennan and Professor Lou Chitkushev, Senior Associate Dean at Boston University MET College, met at a private reception held at the Lenox Hotel in Boston on Wednesday, November 2, 2022.
A select group of scholars and institutional leaders from Boston working in security and international relations were invited to the memorable and intimate event. The single-table dinner format allowed everyone to participate in a fascinating, off-the-record conversation with Brennan, who served as director of the CIA from 2013 to 2017. Professor Chitkushev had an opportunity to talk to Director Brennan about his research on digital evidence and computer forensics applications to prevent cybercrimes, supported by two grants from the US Department of Justice. Professor Vodenska talked about her research on disinformation in time of climate crisis, supported by the BU Institute for Global Sustainability in partnership with the Rafik B. Hariri Institute for Computing and Computational Science and Engineering.
The other invitees from BU included three faculty from the Pardee School of Global Studies—Scott Taylor, dean and professor of International Relations; Kaija Schielde, Jean Monnet Chair in European Security and Defense, and Jack Weinstein, professor of the practice of International Security.