Fulbright Specialist Award for Cybersecurity Sends Professor Chitkushev to Ecuador
Metropolitan College Senior Associate Dean for Academic Affairs Lou Chitkushev has been granted a prestigious Fulbright Specialist Foreign Scholarship award for work that takes him to Ecuador, where the associate professor of computer science and director of health informatics and health sciences will lend his expertise in cybersecurity to the nation's military academy.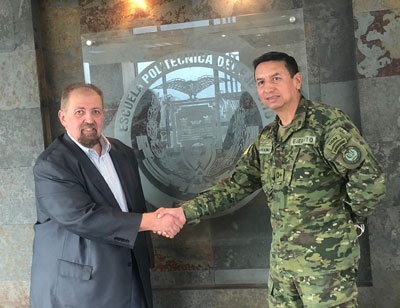 Funded primarily by the US Congress, the Fulbright program is a global effort dedicated to developing mutual understanding between international communities. Historical award winners include heads of state, Nobel Laureates, and all manner of luminaries.
Chitkushev, whose four-year term as a Fulbright Specialist spans until 2026, will lead a project at the University of the Armed Forces of Ecuador (ESPE) that increases the level of information security. This work will help contribute to the country's overall security through the installation of an IT infrastructure model and service management system for the its Computer Emergency Response Team (CERT).
The effort will improve critical national information security by helping ESPE design and implement a model that supports the institution's response to computer incident management. It will also increase the number of certified professionals in the cybersecurity area.
Dr. Chitkushev has committed decades to the improvement of information security through MET's Department of Computer Science. He is cofounder of BU's Center for Reliable Information Systems & Cyber Security (RISCS), and helped lead the effort to get BU designated a Center of Academic Excellence (CAE) in Cyber Defense and Research by the National Security Agency and Department of Homeland Security. He is currently the primary investigator on a $881,201 Department of Justice grant dedicated to helping train US law enforcement agencies in the areas of computer forensics and digital evidence, with an ultimate aim of reducing overall instances of cybercrime.