Alumnus Ralph H. Groce III Delivers Speech for MET Commencement 2017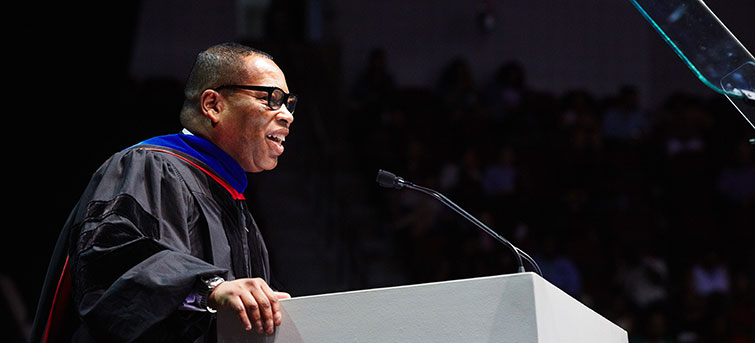 On May 20, 2017, Metropolitan College welcomed Ralph H. Groce III as the Commencement speaker and recipient of MET's Distinguished Alumni Award honoring service to the alma mater. Groce (Questrom'82, MET'84) delivered a galvanizing and rousing address that referenced playwright George Bernard Shaw, Apple CEO Steve Jobs, fictional Star Wars character Yoda, and two-time WWE Hall of Fame inductee Ric Flair.
Groce is chief information officer and senior vice president at Everest Global Services, where he oversees a global team of 500 responsible for delivering industry-leading technology solutions that support Everest's strategy and deliver business outcomes. Over the course of his twenty-year career, Groce has worked for organizations including Wells Fargo, Bankers Trust, Deutsche Bank, JP Morgan Chase, MetLife, and Wachovia. He has served on the boards of Fresh Youth Initiatives in New York City and the Socrates Academy in Charlotte. He has also served as a mentor for the Covenant House Rites of Passage program in New York City, and a mentor and professional advisor to the GENTS program at Vance High School in Charlotte.
As a BU undergraduate in the early 1980s, Groce was on the Men's Basketball team, for which he earned a varsity letter. He received his bachelor's degree from BU's Questrom School of Business in 1982, and then earned his Master of Urban Affairs degree at Metropolitan College in 1984. He currently serves on the MET Dean's Advisory Board, and recently endowed a scholarship to support undergraduate students completing their degrees at Metropolitan College.