Already a Wine Educator in Her Own Right, Gastronomy Master's Student Outlines the Terminology Key to Tasting
Marie-Louise Friedland wants to demystify and democratize the world of wine-tasting. And she's doing it through language.
Friedland is a sommelier at Rebel Rebel, an all-fun-no-fuss natural wine bar in Somerville, Massachusetts' Union Square. She's also pursuing her MA in Gastronomy through BU MET's unique program, which boasts unique access to BU's Programs in Food & Wine, where you can take multi-level certification courses under the instruction of a certified Master of Wine.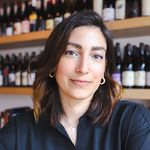 But while Friedland, who also serves as the lead educator at Rebel Rebel, is targeting a 2024 graduation, she's already sought after for her passion for teaching others about wine.
In a recent interview featured in Apartment Therapy, Friedland provided an eye-opening introduction to six terms vital to the wine world: body, dry, acidic, tannin, fruit-forward, and earthy.
Understanding these concepts, Friedland says, empowers you to find something that suits your palate, even if you're unfamiliar with the selection—and can make for more consistent tasting results.
"It's so much easier to walk into a space and be like, 'Oh, I had no idea what any of these wines are, but I like something really mouthwatering and tart,'" she says. "That's much easier for the person than saying 'I like Pinot Grigio,' because Pinot Grigio can taste different all over the world."
When it comes to varieties, Friedland may count Chenin Blanc near to the top of her personal preferred list, but she warns against polling your bartender for their top choices.
"My favorite might be something you hate! That makes me really nervous," she says.
Read more in Apartment Therapy.