Develop a Tourism-Specific Approach to Economic Development
The Master of Science in Administrative Studies (MSAS) concentration in Economic Development & Tourism Management at Boston University's Metropolitan College (MET) provides an in-depth examination of the economic, infrastructure, and logistical, security, and research issues involved with regional, national, and international economic development and tourism. Students are exposed to the interplay of private, public, and government organizations as they relate to the design of a comprehensive economic development and tourism plan. The combination of theory and practice prepares students to analyze tourism markets; assess area, regional, and national weaknesses and strengths; and understand infrastructure needs and costs associated with development. The program emphasizes sustainable economic development via the commodifying of cultural and nature tourism assets.

MET is no longer accepting students for the Master of Science in Administrative Studies degree program with a concentration in Economic Development & Tourism Management. Consider exploring our range of online, on-campus, and blended graduate degree and certificate programs. Please email adsadmissions@bu.edu with any questions you may have. Our graduate admissions advisors are available to connect with you and see how a BU education can help you achieve your professional and personal goals.
MSAS vs. MBA—For those Seeking Specialized Business Education
The Administrative Studies master's degree is best suited to those who have gained an understanding of their profession's general skills and abilities, and who are seeking advanced specialized education. It is important to note that because of the program's specialized nature, it is different in its goal and scope from a master's degree in business administration (the MBA), which is designed to provide individuals with a general overview of management skills and abilities. Because of the differences in design and intent, courses in Boston University's MBA and MSAS programs are generally not transferable.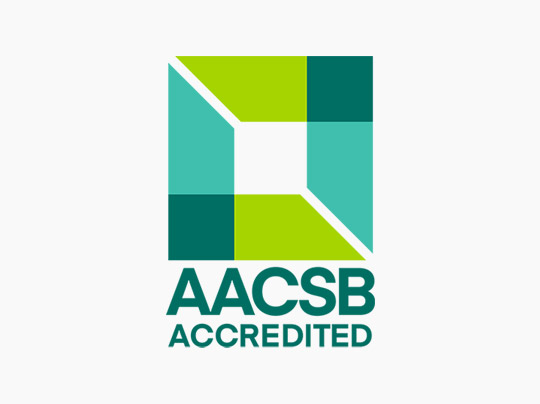 Accredited member of AACSB International
The Association to Advance Collegiate Schools of Business
Learn More
Why Consider BU's Administrative Studies Degree?
Active Learning Environment: BU MET's Administrative Studies program provides practical, hands-on education that you can apply on the job.
Engaged Faculty: In BU MET's Administrative Studies master's program, you benefit from working closely with highly qualified faculty who draw from active research and substantial professional achievements in areas such as business analytics, finance, project management, enterprise risk management, ecommerce, international business, tourism management, economic development, innovation, and many others.
Extensive Network: Study principles of management alongside peers with solid business experience, learn from faculty who have valuable business contacts, and benefit from an alumni community with strong professional connections.
Complementary Analytics Labs: Two levels of self-paced analytics laboratories offer access to advanced tools and provide opportunities to hone analytics skills using cases that are populated with realistic data.
OPT Designated: Eligible graduates on student visas have access to an Optional Practical Training (OPT) of 12 months.
Student Support: Enjoy an exceptional student-to-instructor ratio, ensuring close interaction with faculty mentors and access to support.
Valuable Resources: Make use of Boston University's extensive resources, including the Center for Career Development, Educational Resource Center, Fitness & Recreation Center, IT Help Centers, Mugar Memorial Library, Center for Antiracist Research, Howard Thurman Center for Common Ground, George Sherman Union, and many others.
Flexible Options: Study at the pace that works for you, evenings on campus with courses that begin fall, spring, and summer.
Merit Scholarships: All applicants are automatically considered, and admitted students are nominated based on eligibility.
A Specialized Focus on Sustainable Economic Development
The Economic Development & Tourism Management concentration is part of BU MET's MS in Administrative Studies (MSAS) degree program. Offered through BU MET's Department of Administrative Sciences, the MSAS provides a solid academic foundation in two specialized areas of business study: Economic Development & Tourism Management and Innovation & Technology.
Graduate with Expertise
Metropolitan College's Administrative Studies master's degree concentration in Economic Development & Tourism Management will equip you with:
An understanding of critical and innovative thinking, a global business perspective, enhanced communication skills, as well as the technical tools and techniques necessary for business decision-making.Comprehension of the full range of eco- and cultural tourism assets that can be utilized for sustainable tourism development.
An understanding of the business of eco- and cultural tourism, including how to determine which assets to develop and market, and the tourist's wishes and desires.
The ability to combine local, regional, and national resources and issues so as to be able to develop a comprehensive plan for an integrated tourism industry.
An understanding of the global nature of the tourism industry.
Master's in Administrative Studies Curriculum
Administrative Studies Faculty
View all Faculty
Tuition & Financial Assistance
Competitive Tuition
Our part-time rates are substantially lower than those of the traditional, full-time residential programs yet provide access to the same high-quality BU education.
Comprehensive Financial Assistance
Our services include
scholarships
, graduate loans, and payment plans.
Get Started
Please visit the BU MET admissions page for details on how to apply, financial assistance, tuition and fees, requirements for international students, and more.