575 Commonwealth Avenue
Details
575 Commonwealth Avenue
Boston, MA 02215
575 Commonwealth Avenue is an air-conditioned residence hall featuring multi-occupancy bedrooms, each with a private bathroom. Most rooms are triple-occupancy, with a limited number of single and double-occupancy available. Rooms are furnished with desks and dressers that fit under the space-saving loft-system beds. There is a laundry room, multipurpose room, and study lounge with panoramic city views.  The Fresh Food Co. Dining Hall at Marciano Commons is just a short walk away.
Amenities
24-hour front desk security
6 residential floors
Air-conditioned
Single, double, and triple rooms available; all rooms have a private bathroom
On-premises laundry facility
Vending area
Building Multipurpose Room
On-campus dining options available
Learn more about hosting Youth Groups on campus.
All residential guests have the option to eat in campus residential dining halls. This service needs to be arranged by your group organizer in advance. In addition, many retail dining options are available to conference/residential guests.
Residential Dining
If you're staying in one of our residences during the summer, you're in for a treat. Our residential dining halls are available to all overnight conference guests for breakfast, lunch, and dinner (brunch and dinner on Sundays) with a rotating variety of choices at each meal. We take pride in serving delicious, healthy meals using sustainable and local food products. And our staff is happy to assist with special dietary requirements.
Retail Dining
Too rushed to get to a residential dining hall? We've still got your meals covered with a variety of on-campus retail options. To name a few: the George Sherman Union Food Hall, Buick Street Market & Cafe, Breadwinners at Questrom School of Business, and the School of Law Cafe.
Retail Dining options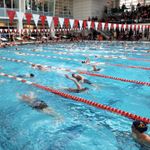 If you are participating in a BU summer program, academics or a conference, you are eligible for a membership to Boston University's state-of-the-art fitness center!
Fitrec welcomes BU guests to beat the heat indoor this summer utilizing our phenomenal facilities such as an indoor jogging track, squash and racquetball courts, two swimming pools, a fitness center and more. Summer guests are also invited to take an invigorating recreation class.
Learn More
Gallery