Commencement
Welcome to Boston University's Department of Mathematics and Statistics Commencement 2019. This page is designed to provide undergraduate and graduate students with all the information they need to know about graduation!
The Convocation for Mathematics and Statistics will be held on:
Friday, May 17th
9:00am
Case Center Gymnasium
285 Babcock St
LIVE EVENT CAPTIONING service will be provided via the following link:
Please note the Mathematics and Statistics ceremony takes place at the same time as both the Economics and Computer Science ceremonies.  If you are a joint math major with either of these majors, please email the department of the ceremony you plan to attend.
For general inquires about the mathematics and statistics convocation, please email mathdept@math.bu.edu with subject "Commencement 2019".


Please note: no tickets are required for the department ceremony.
---

STOP! Complete this form by Friday May 3rd, 5:00pm.
Graduation Day Agenda

8:15am: Check in at Case Gym.
• There will be a table outside the gym doors for graduate check in.
• Check-in and pick up your name card.
• All guests will enter through the guest entrance.
8:30am: Line up
• All graduates will line up in a separate room prior to the ceremony. Please line up by degree (PhD, MA, MSSP, BA). See the floor plan below, staff will be on-site to assist with line up.
8:45am: Final line up check.
• Please do not be late!
9:00am: The ceremony begins.
Post Ceremony:  Degree pick-up and reception
• In order to receive your official diploma, please pick up your diploma after the ceremony in the designated area.
• The diploma pick-up station will be open for an hour after the ceremony ends.
Math Graduation Floor Plan
(click for larger floor plan)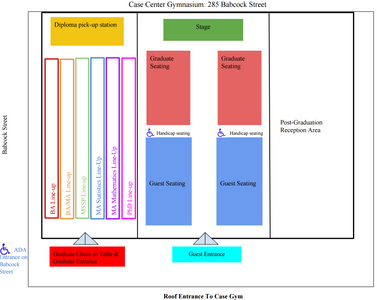 ---
You will also need to order your Cap and Gown.
Here are some cap and gown basics:
Online ordering is available now for all degree candidates. Online ordering will be available through May 5 for home delivery.  Delivery charges increase the later you order, so please order your cap and gown ASAP before May 5.  Please note that orders cannot be shipped to a P.O. address.
Orders that were placed online by April 7 for on campus pick-up will be available beginning May 13th at the Alley in the George Sherman Union, which will be open from 11 am until 7 pm.
For those who choose not to order online, a limited selection of regalia will be available for purchase (or rented if doctoral) at the Alley beginning May 13th. While every attempt will be made to provide walk-ins with the regalia appropriate for your degree, sufficient inventory cannot be guaranteed.
Doctoral regalia is rented and must be returned by May 30th to avoid late charges.
International Students:
If you have family members who are not U.S. citizens who wish to come for Commencement weekend, please fill out the application for a letter of invitation for each guest.
---
The All-University Commencement Ceremony will be held on:
Sunday, May 19, 1pm on Nickerson Field
Visit BU's commencement website for more details!
Still need help?