Packing Tips
---
Alright so you have made the life-changing decision of studying abroad with us here at BU Study Abroad Madrid! And now onto the next challenge…what to pack?
First things first–the essentials!
–PASSPORT and multiple copies in color and also some other form of ID such as a
driver's license
–Prescription medications and enough refills for your time abroad. Do not change the
bottle. Also Spain does not always have the same over-the-counter medication. 
Some recommendations of past students are: allergy, tums, DayQuil and NyQuil, Pepto Bismol.
–Power adapters and chargers
–Face masks and hand sanitizer 
–Travel size toiletries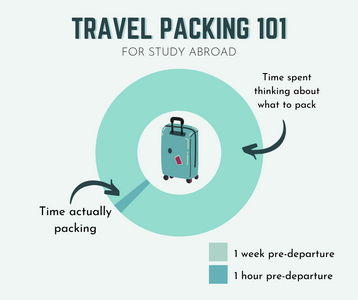 ---
Other general things:
–Padlock for hostels
–Flips flops for travel
–A backpack
–Portable power bank
---
What NOT to bring!
–Too many clothes/shoes. Madrid has many affordable and fashionable stores. Bring 
basic pieces and neutral colors and you can mix and match.
–Books. They are heavy and spacious. Join team kindle.
–More than one full suitcase. There likely will not be much space where you are staying and on top of that you will want to take home some souvenirs.
–Expensive things that are not needed that could be lost or stolen
–Blow dryers and hair electronics. They will likely blow the fuse and cause issues.
Alright now you have to resist the urge to overstuff and pack every favorite piece of clothing you have. First check the weather and season here. You will need a jacket at some point.
Also resist the urge to leave packing to the last minute. Lay out all the things you are thinking of taking and ask yourself, are they really necessary? And then pack you bag and see if you have space left, keep in mind you will need room for all those awesome things you are going to bring home.
---
Group trip baggage information