Barrios de Madrid
Barrio refers to a neighborhood. Although these are the official barrios, each area has a different feel to it, and sometimes, one barrio can be split up into many different smallers barrios. We encourage students to get to know the area around their homestay, as well as venture out into others. Although the times are slowly changing, many neighborhood mom and pop shops are still open, after generations of owners. You may find that your neighborhood has a carniciería, un mercado municipal, una pescadería, una frutería, una papelería, una panadería, etc. Be sure to check them out, and shop like a local!  Students will see some are more touristy, some are more residencial- some are more frequented during the weekend, and others are more popular during the weekdays! BU Madrid offices are located at the Instituto Internacional in Barrio Salamanca.
Be sure to try some typical madrileño foods such as the following! Continue onto the ¨barrios¨ section of our website (the menu on the right-hand side) to see some of our favorite restaurants and bars to try each one! We have highlighted a few of our favorite neigborhoods, but to see a complete list, click here.
 patatas bravas-fried potatoes with brava sauce (a spicy tomato based sauce) which can also be accompanied to alioli
bocadillo de calamares- a friend calamari sandwich! Do you think it's a little dry? Ask for alioli!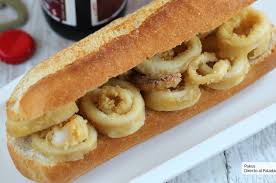 cocido madrileño- a stew consisting of broth, garbanzos, vegetables (usually carrots, potatoes, and cabbage) and a various selection of meats.
You will likely also find the following typical Spanish dishes when you are tapeando!                                                         
tortilla española- a Spanish omelette made with potato, egg, and sometimes onion! (Our favorite kind is con cebolla, with onion!)

croquetas- fried and breaded bechamel-filled balls with some sort of either meat or vegetables inside! Popular varieties include with ham, chicken, puchero, and cocido!
huevos rotos- fried potatoes topped with a fried egg and ham. To eat it properly, cut everything and mix it together!
jamón– Spain is very well-known for its ham- there are different varieties (jamón serrano and jamón iberico, and then there are many subcategories depending on the quality and the time that it has been cured!) Looking for coldcut type ham? That is called jamón york!