Upcoming Events at BU Libraries
Looking for something to do? Here are upcoming events hosted at BU Libraries. All events are held in the Estin Room (Rm 302) in the Mugar Memorial Library except events listed as Howard Gotlieb Archival Research Center (HGARC), which are held in the archive's 5th floor reading room.
October 9:  The CinemAfriq Film Series invites the BU Community to a screening of Hyenas at 5:30pm. About the movie: Set in Senegal, Dramaan is the most popular man in Colobane, but when a woman from his past, now exorbitantly wealthy, returns to the town, things begin to change. More information on Facebook.
October 18: Crowd Cafe is a monthly gathering in person and online, at which participants contribute to crowdsourced projects from 1-3pm. No experience necessary — join us! This month we'll be hosting a Wikipedia edit-a-thon. Learn more about Crowd Cafe.
October 29: Join BU librarians to learn about the many different types of bibliometrics for authors, journals, and individual publications and learn more about how research impact is measured. From 11am-12pm. RSVP and get more information.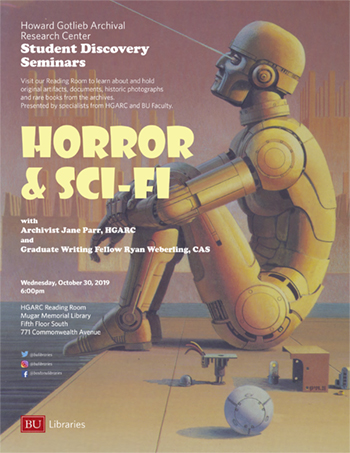 October 30: Visit the Howard Gotlieb Archival Research Center for a Student Discovery Seminary on Horror and Sci Fi with Archivist Jane Parr and Graduate Writing Fellow Ryan Weberling, CAS.
November 1: At the first meeting of the Data Modeling Book Club, we will discuss Part I of The Shape of Data in Digital Humanities: Modeling Texts and Text-Based Resources, both generally and in light of specific projects brought to the meeting by participants. We will also identify sections of Part II of the book that hold particular interest to the group, aiming to hold an additional discussion in the spring. Please register here.
November 13: The Howard Gotlieb Archival Research Center looks at The Cuban Revolution: Its History and Legacy in a Student Discovery Seminar with Archivist Nicolette Archambault and Ambassador Paul Hare, Pardee School of Global Studies (British Ambassador to Cuba 2001-2004).