"Silenced Voices and Stories in Africa: A Discussion"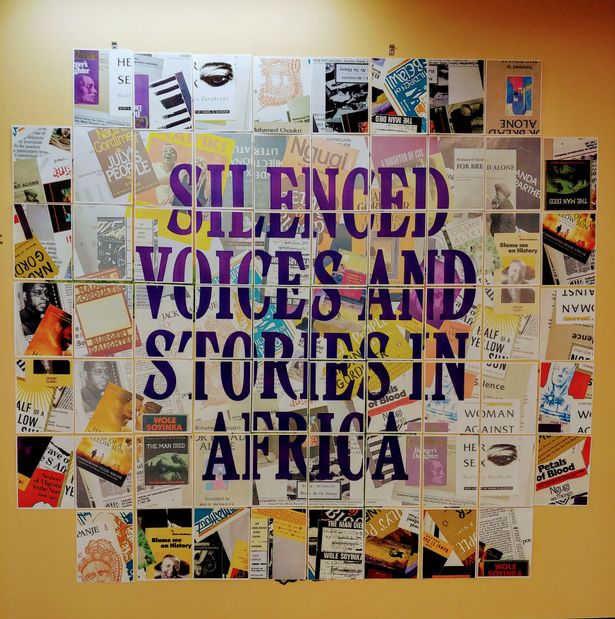 Banned Books Week (Sept. 23 -29) is an annual event across libraries and schools in America, celebrating our freedom to read and bringing awareness to those who do not have that right. The theme for this year is "Banning Books Silences Stories". The Mugar Green Scholars in collaboration with the African Studies Library have organized a conversation about "Silenced Voices and Stories in Africa" to shed light the global dimension of the issue beyond the American context.
When? Tuesday, Sept. 25th 1:30-3:30pm
Where? African Studies Library (6th floor of Mugar Library)
Access via the North Elevator (next to the circulation desk)
The degrees and extents may vary from one country to another but books are banned, voices are silenced and the rights of citizens to read to listen or to view are curtailed throughout the world. Here in the United States, the rights to read or collect published or unpublished materials are curtailed largely due to objections from over-protective parents, school or local administration officials but not necessarily due to directives or policies of federal or state governments. In other parts of the world, different actors, different cultural & political context pose the threat. This conversation will focus on the African context and we hope to explore past and present voices or stories silenced across the continent. The focus points are the books, films, songs and plays that have been banned or silenced in the Continent. In due course, we celebrate the courage and determinations of authors, playwrights, songwriters, filmmakers and bloggers from the continent as well as the sacrifices they have paid.
Our speakers include:
Ms. Meskerem B. Girma (who will join via Skype/Zoom video connection) is chairperson of The Baalu Girma Foundation, a Michigan based non-profit organization. The Foundation is established in memory of Baalu Girma, an Ethiopian journalist and writer who was kidnapped by the military junta in 1984 and have not been heard since then.
Mr. Godwin Nnanna (the moderator and discussant participant) is former TV and newspaper journalist with reporting experience in Africa, Europe and America. Currently he is President of Nigerian American Multi-Service Association (NAMSA) is a non-profit organization based in Boston, MA and a double major graduate student in Theology and Social Work at BU.
Dr. Timothy Longman is an associate professor of political science and international relations and is a former director of African Studies Center in the Pardee School of Global Studies. Currently he is the director of the Institute on Culture, Religion, and World Affairs (CURA). His research focuses on state-society relations in Africa, looking in particular at human rights, transitional justice, religion and politics, gender and politics, and the politics of race and ethnicity. He has published two books with Cambridge University Press, Memory and Justice in Post-Genocide Rwanda (2017) and Christianity and Genocide in Rwanda (2010). Professor Longman has taught many courses related to Africa including International Human Rights: Applying Human Rights in Africa.
Rev. Leshy Paynter, a minister and activist originally from South Africa, he was an active member of the South African Student Organization in his youth and fled the country in the 1970's to move to Canada and later the United States. While serving in a Lutheran Church in Toronto, he helped organized what was perhaps the largest ministry serving South African exiles and supporting the struggle against apartheid and working with prominent anti-apartheid activists such as Steven Biko. Based in Worcester, MA, he continues to be a voice against injustice.