What's New in BU Libraries Search for Fall 2017

We'd like to introduce some new features in the BU Libraries Search to help streamline and personalize your search results.
It's now easier to limit searches and filter your results. Start with your search, then select a filter such as Peer-Reviewed Articles. You can then lock this filter to apply this to future searches during your session.
Select multiple filters using the new checkbox options to the left of each filter. Or exclude options with the flag to the right of each.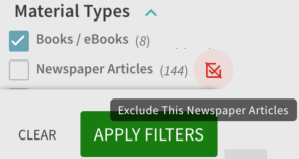 The new Personalized results feature helps bring more relevant articles to the top of your results set. Click the Personalize button at the top the results list, then select up to 5 disciplines that match your research interests. You may see the top results change based on the topics and sources they come from. This feature works best with articles, and can help focus your search when using broad keywords.
Sometimes knowing which subject keywords to use can be tricky. The BU Libraries Search can help by automatically expanding to similar search terms, and now gives a better indication of how this works behind the scenes.

We've added a number of other improvements, including: better sorting in My Favorites by author or title; two new citation formats for Harvard 1 and MLA (8th edition); and an option to create an RSS feed to get saved searches in your RSS reader. Also, to help locate items available in our libraries we've added links to library location maps.
Visit our BU Libraries Search help page for more assistance getting started. And always, please feel free to Ask a Librarian if you have further questions.