Winners of the Library Survey iPad minis Announced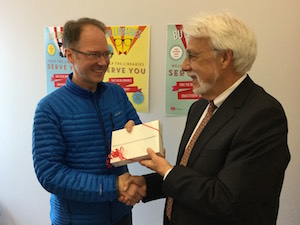 A huge thank you to all students and faculty who took the 2016 library survey.
Linda Plunket, Associate University Librarian and the chair of the Library Assessment Committee, says the response rate was terrific for faculty, graduate students, and for undergraduate students. Her team will now diligently explore all of the responses to help improve the libraries and our services.
The survey results, once complete, will be reported on the library website on the Library Assessment pages.
Students and faculty that took the survey and then submitted their email addresses were entered into a competition to win one of twelve iPad minis.
In the photo above, University Librarian Bob Hudson presents Sean Elliot, Associate Professor of Chemistry, with one of the iPad minis. The winners of the iPad mini prizes have all been notified, and more photos of them can be seen on the Library Assessment pages.