What's New in BU Libraries Search
May 2020
Persistent Filters for your Search Session
You can now quickly remember all filters for all searches in a session. Use persistent filters to search across selected material types, subjects, journal titles, dates, or any combination.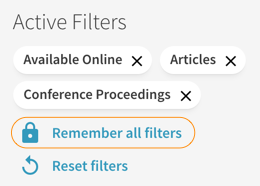 December 2019
Emailing Records and Saved Search Alerts
The format of emailed records is now simplified to include brief information, location and call number, and links back to view the full record.
Selecting Results in Bulk
Multiple records can be selected at a time, or up to 50 in bulk. These can be exported in bulk to reference managers, saved to favorites, emailed, or printed.

Links to Interlibrary Loans in My Account
After signing in to My Library Account, you'll find links to InterLibrary Loan accounts to view your loans and open requests.
August 2019
Library Help Search Options
We're making it easier to find guides to research in your subject area, course, or on how to use library resources. To get right to these guides, look for these "Library Help" search options.

New material types are now available to improve filtering to these guides.

May 2019
Help Menu
Search tips, details on key features, and help contact information are now readily available from the main menu of BU Libraries Search.

February 2019
Renew Selected Loans
In My Library Account under Loans, you can now check and renew selected items you have on loan.
Follow Cited Sources
For many article results, there are more visible arrows to find sources citing and cited in.
January 2019
New Ways to Filter Results
In the Filter My Results column, you may find options for:
Form / Genre: find materials such as interviews, biographies, case studies, diaries, oral histories, and other primary source materials.
Medium of Performance: identify scores and music resources that contain specific instrumentation.
Record Source: limit to resources from specific vendors, databases, or publishers.
BU Collections: find resources within one of our music, archival, or digital collections.
October 2018
Increasing online availability with Open Access links
We're significantly improving online availability by providing more links to open access resources. In your search results look for "Open Access available via unpaywall" links to go directly to an openly available version of the article online.


September 2018
Course Materials (Reserves) / Course Readings
Complete course reading lists are now located in a new course reserves tool (Leganto). See our Course Reserves services page for more details about this.
New Resources
Over the Summer we've added many new collections of resources, including: Black Abolitionist Papers, History Vault (Struggle for Women's Rights, Organizational Records, 1880-1990; New Deal and World War II: President Franklin D. Roosevelt's Office Files and Records of Federal Agencies; FBI Confidential Files: Radical Politics in the US 1945-1972), and research datasets from Statistical Abstracts of the World and United States.
August 2018
My Library Account
Account features are now located in the top right corner next to Sign In.
For loans and requests in My Library Account, select multiple items to export as BibTex, RIS, to RefWorks, EndNote, and EasyBib.
Navigation between results
Previous and next arrows now appear in the full record view for easier navigation between results.
June 2018
Open Access Indicators and Filter
Resources that are freely available are now indicated with an Open Access icon, and can be filtered with the Open Access availability. This includes resources from OpenBU and other content providers.
Basic Search Pre-filters
Basic Search pre-filters appear as drop downs under the search box and can be used to easily limit a search to a material type or within a particular field.
Book Chapter material type facet
It's now possible to filter to Books and Book Chapter records separately using the Material Type facet.
March 2018
Recommended resources, how to guides, and library services
We're adding commonly requested information to the top of the search results for resources such as: library hours, maps, interlibrary loan services, research tools, search tips, tutorials, and where to go for help.

If you need assistance, try searching for help, how to, mugar, or tutorials.

February 2018
Accessibility improvements in compliance with WCAG 2.0 AA level standards.
This includes better indications working with screen readers, color contrast, and element focus when closing dialog boxes. See a detailed list of accessibility fixes.
Better matching when searching for titles containing an "&" or an "and"
This is particularly helpful for matching journal title results.

December 2017
Ranking improvements for author name searches
Author name is given more weight in cases where a search could be for works by or about a person.
Extended session timeout
Inactive sessions will remain open for 30 minutes.

August 2017
More Articles Beyond BU
By default, search results include articles that are available online at BU. You can expand your research to a more comprehensive set of articles by using the More Articles Beyond BU scope.



For articles with Online Access Unavailable, sign in and click through to request using our Interlibrary Loan Services.
Persistent and Multiple Filters
Include or exclude multiple filter values. Use the lock to have them persist for the duration of your session.

Personalized Results
Adjust the relevancy ranking based on your preferred discipline(s) by selecting the "Personalize" button. For best results, try combining this with the More Articles Beyond BU scope.
Search Term Expansion
The search will automatically include keyword and subject term variants when a match is found. This may improve accuracy of results through using more commonly indexed terms.

Virtual Browse for related books (print and electronic)
When viewing the full result, you may see related books available in our collection.
Links to Library Location Maps
For items available in library, you'll find a link to the library location and floor plans in the record details.
Course Reserves indicators
New filters for Course Reserves availability, and Course Readings as a material type. The course code, name, and instructor displays more prominently in results.
Audio-visual Materials
Films / videos and audio / music are now distinct material types, available for filtering and advanced searches.
Chat Assistance
Use the chat widget in the lower right to get assistance from a Librarian or view frequently asked questions.
Now running over secure https
May 2017
Search History
Go back through your search history for your session. If signed in, you can also save searches for future sessions.


Export to BibTex
Save records in BibTex format from the Send To menu.
Browse Search
Browse of library holdings by title, author, subject, or call number.

January 2017 : a new interface for the BU Libraries Search
What's not changing?
The search functionality remains the same. That means the results, relevancy, and ranking have not changed in this new interface.
Improved Interface for all Devices
The BU Libraries Search interface has been completely redesigned to function on all devices and screen sizes – mobile devices, tablets, and desktops. When using a smaller screen the location of some features may change — for example, the filters will move to a menu at the bottom of the screen.
Advanced Search
Custom advanced searches can now be run in the same window without having to leave the initial search page.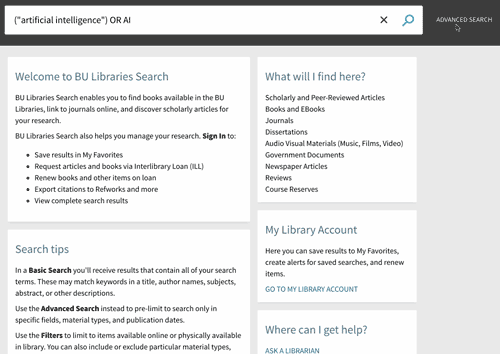 Filtering Results
The ability to include and exclude filters has been made easier and more visible. Use the Availability Filters to limit to resources available online, in physical form in the library, or for peer-reviewed articles.


Searching for Course Reserves
When you begin typing into the search box an option will appear to limit your search to Course Reserves readings only.


In an Advanced Search, the same feature is available by selecting the button above the search boxes.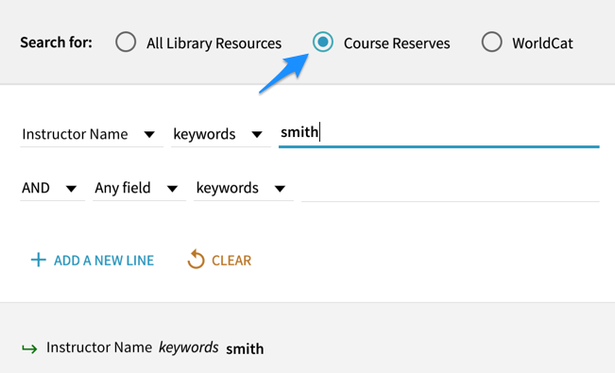 My Favorites
The eShelf has been replaced by the My Favorites feature. After signing in, you can now pin results to My Favorites. Instead of being organized by folders, records can be labeled with tags. Records can also be selected and exported to reference management tools such as RefWorks and Endnote, or emailed.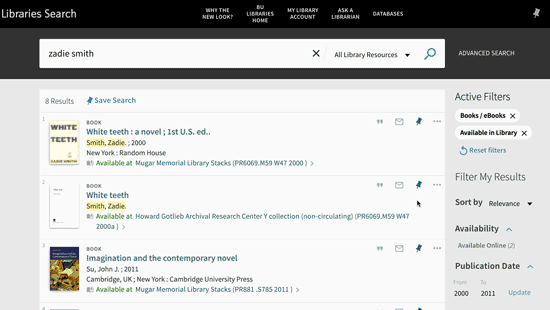 Search Alerts
When signed in, the option to Save Search will appear above your results. Selecting this enables you to save the search with all of the parameters and filters pre-selected. In addition, you can select the bell icon to set an alert for this query. Whenever new records appear that match your search you'll receive an email update.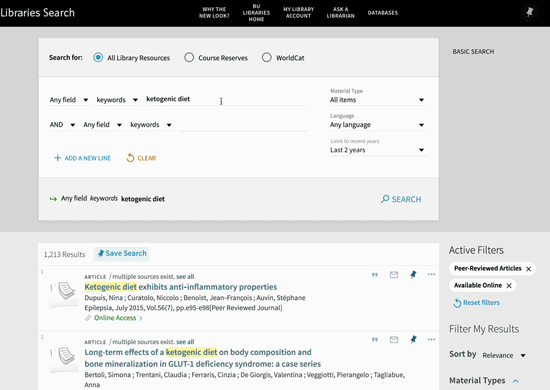 Sending Results
It's now easier to send results to reference managers, format citations, or email results to yourself.