Undergraduate Student Library Survey, 2013
In the spring of 2013 the Assessment Committee surveyed all BU undergraduate students to determine their use of and satisfaction with current library services and resources.  The quantitative and qualitative data were analyzed and the results from the survey are now available in our Undergraduate Student Survey Report.  The chart below from the report shows undergraduate students ratings of the BU libraries' contribution to their quality of life and academic success.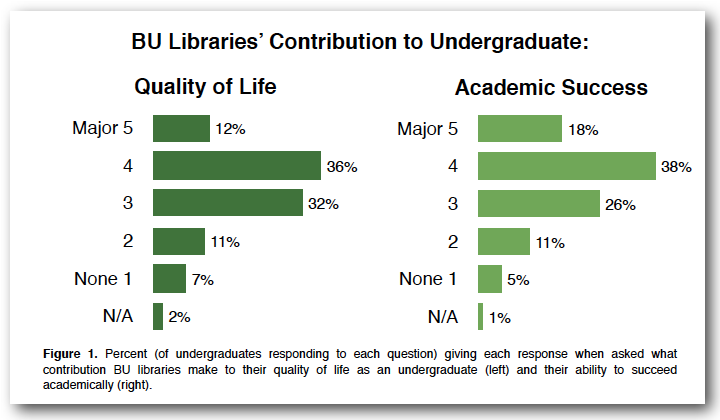 Winners of the Undergraduate Survey iPad minis and Convenience Points Announced
A huge thank you to all of the undergraduate students who took the undergraduate library survey. The response rate was terrific and the library will continue to diligently explore improvements to the libraries and their services.
Undergraduate students that took the survey and then submitted their email addresses were entered into a competition to win three iPad minis and 100 prizes of $25 in convenience points.
The winners of the iPad minis were Katherine Parolin, Lindsay Nicastro and Yenddie Lin.
University Librarian Bob Hudson congratulated Katie Parolin. Linda Plunket, Associate University Librarian and the chair of the Library Assessment Committee, was delighted to present Lindsay Nicastro and Yenddie Lin with their new iPad minis.
The 100 prizes of $25 in convenience points each were also distributed.