MINES Collections Survey, 2015
From March 2014 through February 2015, the BU Libraries Assessment Committee conducted a survey of the use of the library's online collection. For the first time, this survey allowed the library to see who was using its online collection, and why it was being used.
The full report from the Measuring the Impact of Networked Electronic Services (MINES) survey is available below in pdf format.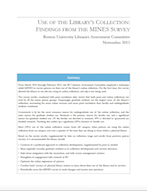 Use of the Library's Collection: Findings From the MINES Survey
The Committee wishes to thank to all of the students and faculty who have taken our surveys. The response rates were terrific and the data helps to drive real improvements to the BU libraries system.  The Committee also created the infographic below to help highlight some of the results.