A Family in Law
Seventy years after his grandfather taught at BU Law, Steven Arrigg Koh is continuing a family tradition of exploring international law.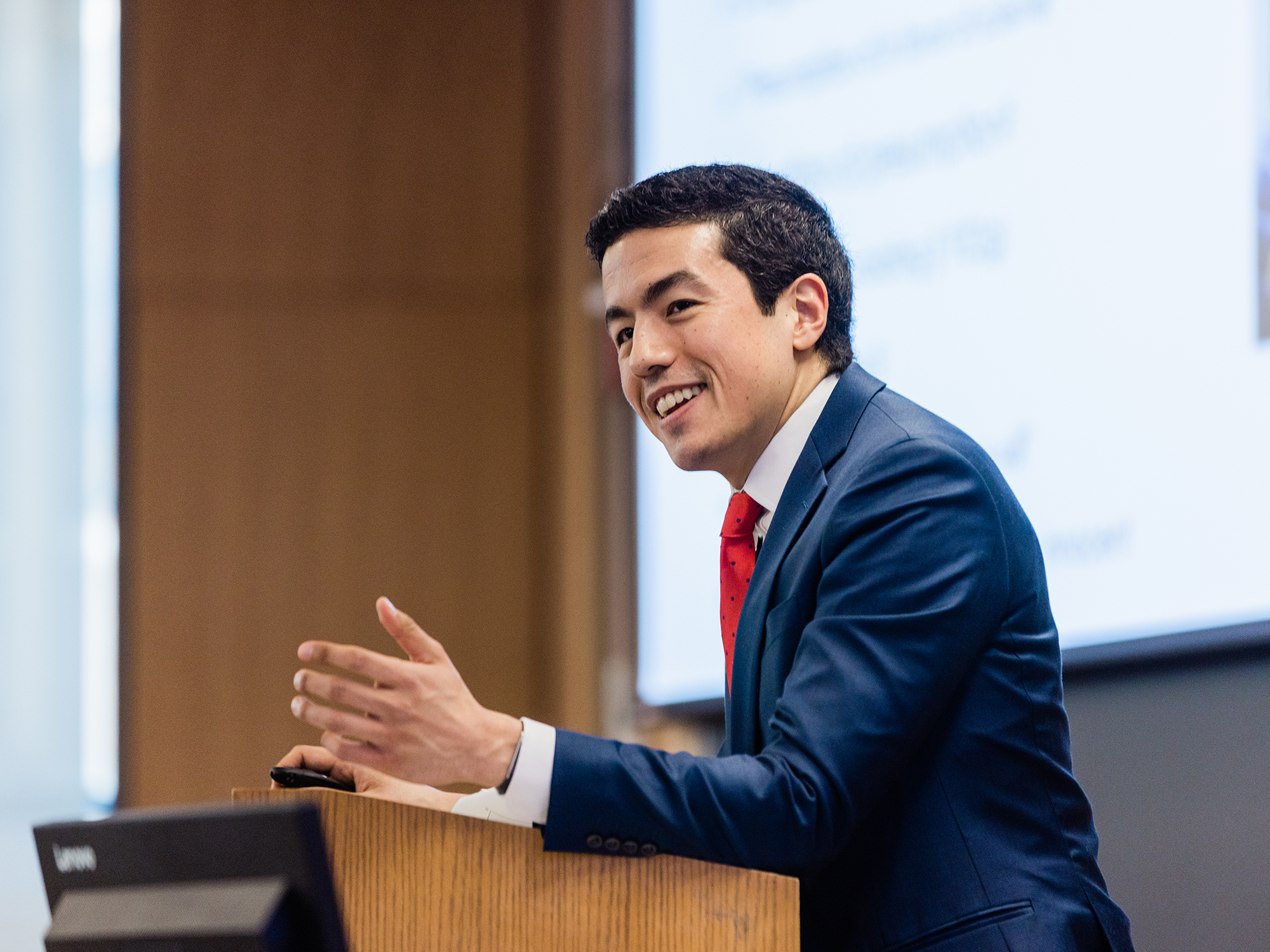 Faculty
A Family in LAW
Seventy years after his grandfather taught at BU Law, Steven Arrigg Koh is continuing a family tradition of exploring international law.
Kwang Lim Koh grew up in a small fishing village on the island of Jeju, off the southern coast of Korea. Living, working and studying under Japanese colonial rule, he developed an interest in maritime and international law, seeking to understand how it could restore balance to a world defined by strength and weakness.
His search carried him half a world away to Boston, where he became the first Korean law professor in the United States at the Boston University School of Law. Two generations and 70 years later, his grandson Steven Arrigg Koh is carrying on the family legacy at the law school as an associate professor and R. Gordon Butler Scholar in International Law.
"I've always felt very connected to him, and I think we all have because of the power of his story and the way in which the family has kept his story alive," Steven says.
That story begins with Kwang Lim's immigration in 1949 to study and later teach international law, and his fortuitous introduction—made by his dissertation adviser—to his wife and fellow Korean immigrant, Hesung Chun, who was then a student at Dickinson College in Pennsylvania. She went on to earn a PhD in sociology and anthropology at BU, while Kwang Lim earned a PhD in political science at Rutgers University before earning both LLM and SJD degrees at Harvard Law School and, eventually, a JD at Boston College Law School.
As the Kohs embarked on busy academic careers in the 1950s, Koreans were still few and far between in the United States and their culture and history weren't yet being considered in academic circles. So, they established the East Rock Institute, the country's first institution dedicated to Korean studies and Korean-American intellectual and cultural exchange. As they mentored and educated countless students, their Cambridge home became a gateway of sorts, through which seemingly every Korean immigrant in the Boston area passed on the path toward establishing roots in the region. When they moved to New Haven, Connecticut, in the 1960s, they moved the institute into what has become its permanent home.
Along the way, the Kohs' six children developed a passion for teaching that carried several of them to the highest levels of academia. Steven's return to the school where his grandfather first taught the law is a homecoming that has resonated throughout the Koh family.
"My father would just be jumping for joy," says Harold Hongju Koh, Steven's uncle, who is the Sterling Professor of International Law and former dean at Yale Law School. "It would be everything he could have dreamed of."
Kwang Lim died in 1989, when Steven was just 6, but Hesung Chun is "still going strong" at 93, Harold says. She often reminds Steven that the conception of time is different in the West, where it is viewed as linear, than the East, where it is viewed as cyclical. In that distinction, he finds a close connection to Kwang Lim.
"Each generation is another cycle of life," Steven says. "I'm the oldest grandson and my father is the oldest, so I have a very direct relationship to my grandfather from a Korean perspective. In a way, I'm continuing on the next cycle from what my grandfather started."
Kwang Lim taught and wrote about the law of the sea, with a particular focus on fisheries and the outer continental shelf. His writing was organized around the ways that international law can protect developing nations and guarantee equal treatment on the world stage. Steven's work is focused on comparative and international criminal law, with a distinct interest in the evolving area of transnational law, which brings nations together to address cross-border crime.
On the first day of class last fall, when Steven began teaching the same international law course Kwang Lim taught in 1953, he showed his students a photograph of himself and his brother alongside his grandparents in the 1980s.
"It was deeply meaningful for me to be teaching international law over half a century later at the same law school where my grandfather taught international law," he says. "I wanted my students to have a sense of that history from the very start."
The experience reminded Steven that international law has come a long way since the 1950s. In Kwang Lim's time, many of the pillars taken for granted today—including the United Nations, international treaties and the law of the sea—were still being established. By the next generation, Harold was able to contribute to the further development of international standards as a scholar and at the Department of State, where he was legal adviser and assistant secretary of human rights. By the time Steven graduated from Cornell Law School in 2008, international law had been so well established that he was able to contribute in two different positions at The Hague, first at the International Criminal Court and then at the UN International Criminal Tribunal for the former Yugoslavia. The Kohs offer a window into the evolution of the field across three generations.
"International law has grown so much in the years since my grandfather taught here," Steven says. "It really makes me aware of the nuance and sophistication of this system and the complex questions that arise."
For the Koh family, teaching has been a multigenerational pursuit. In Korea, there is no greater professional honor than to be a teacher, Harold says. The Korean word for teacher, seonsaengnim, is a term of reverence akin to being called "Jedi master," he says. His parents instilled that appreciation in their children, including Steven's father, Howard, who is the Harvey V. Fineberg Professor of the Practice of Public Health Leadership at the Harvard T. H. Chan School of Public Health and the Harvard Kennedy School. Steven's mother, Claudia Arrigg, is of Lebanese heritage and shares the same values.
Steven's approach to teaching reflects the same principles his grandfather established for his family all those years ago, beginning at the same law school where Steven now works.
"We see a scholarly life, but an engaged, mission-oriented, public-facing scholarly life, as very critical to who we are," Steven says.
As a third-generation professor of international law, his pursuit is an opportunity to shape and create a better future, his uncle says, in much the same way Kwang Lim sought to do.
"Let's face it: not everything you write is going to live on," Harold says. "But if you give a student an idea and that student gives another student an idea, you can change the way people think about the world and promote a vision of the rule of law that extends from generation to generation."
---
FEATURED IN
The Record, Spring 2023
---