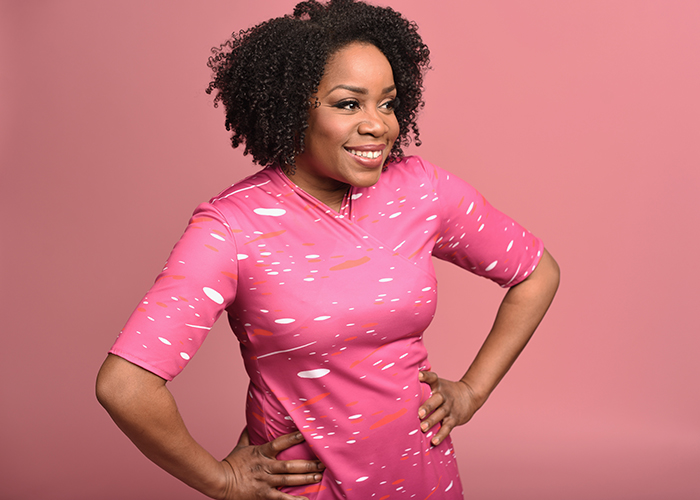 Alumni
From Law to Politics
BU Law graduate Kimberly Atkins (LAW/COM'98) leads WBUR's political coverage in DC.
Just a few months after Kimberly Atkins (LAW/COM'98) began her job as WBUR's first-ever Washington, DC-based reporter, she was asked to guest host the station's two-hour live show, On Point.
The assignment came on the same day the US Department of Justice released a redacted version of its long-anticipated Mueller Report, a 448-page document outlining findings from a two-year investigation into Russian interference in the 2016 presidential election. Atkins hosted the regular show and an additional third hour that evening.
"To be able to explain the Mueller Report live to an NPR audience was one of the craziest and most difficult but best days of my journalism career," she recalls in an interview with BU Law during the week of President Trump's impeachment trial.
Before she became a reporter, Atkins' first love was the law. The Detroit-native studied journalism and wrote for the campus paper at Wayne State University, but, as she describes it, college "was something I needed to spend four years doing until I got to law school."
She chose Boston University School of Law in part because it offered a dual JD/MS with the College of Communication. In law school, she won best oralist in the Homer Albers Prize Moot Court Competition before a panel of judges that included US Supreme Court Justice David Souter. And, even though she enjoyed journalism, she never wavered in her desire to be a litigator.
After graduation, Atkins accepted a job in a small civil litigation practice and had her own caseload immediately, handling employment discrimination and insurance defense matters. But she soon found herself mostly negotiating settlements.
"Very little was about going to court," she explains. "A lot was about filing papers."
In 2000, Atkins decided to move to New York. She took the state bar exam and applied to Columbia Journalism School. When her acceptance to Columbia arrived before her bar admission, "I took that as a sign," she says. "I went there and never looked back."
Atkins graduated from Columbia at a time when many papers had announced hiring freezes. She landed a job after following a Boston Globe recruiter onto a shuttle from campus to LaGuardia Airport so she could give the woman her resume.
"I was lucky and tenacious," she says.
In 2004, after covering health and education for the Globe and another outlet, Atkins moved to the Boston Herald, where her editor asked her to cover state politics.
"I was terrified," she says. "I didn't know anything about politics. But I loved it. It was baptism by fire."
Among other assignments, Atkins covered the 2006 gubernatorial race won by Deval Patrick, who is now a 2020 Democratic presidential candidate (the outgoing governor at the time was Mitt Romney who was then preparing for his 2008 presidential run).
In 2007, Atkins was ready for a new challenge and moved to DC to cover the US Supreme Court for a legal trade publisher where she could combine multiple passions: her love of writing, her love of litigation, and her love of appellate law.
On her first day at the high court, the justices issued a 5-4 decision in Gonzales v. Charhart, upholding the Partial-Birth Abortion Ban Act signed by President George W. Bush; Justice Ruth Bader Ginsburg read her dissent from the bench.
"In law school, I had learned about Roe v. Wade and Casey and all these foundational cases on abortion rights, and I'm watching as they're rolling that back," she says. "I thought, 'This is happening right in front of me.'"
In 2014, Atkins returned to the Herald as the paper's Washington bureau chief. She was in that position when WBUR asked if she'd like to become their first-ever DC-based political reporter in 2019. By that time, she had plenty of broadcast experience under her belt, having served for more than two years as a recurring guest host for C-SPAN's Washington Journal. She also appears as a political commentator on cable news shows and is a regular contributor for MSNBC.
Atkins says she loves covering politics for Boston, in part because of the high-profile nature of regional politicians such as Democratic presidential candidates and Senators Elizabeth Warren and Bernie Sanders.
"Massachusetts is a tiny state with a huge, out-sized political impact," she says.
Her legal background has always been helpful in her reporting career, she says, because, as a law student and lawyer, she learned to read, digest, and explain complicated information quickly. That skillset has been particularly important under the Trump administration, where "the sheer volume of news is entirely different than in the past… coming at you like a firehose." When the president hinted on Twitter that he might have the Supreme Court do away with the impeachment case against him, for instance, Atkins knew better.
"It was good to know, 'No, that's not how the Constitution works,'" she says.
---
Related News