Karen Pita Loor to Lead Clinical & Experiential Programs
After five years of service as associate dean for clinical & experiential programs, Peggy Maisel will resume full-time teaching.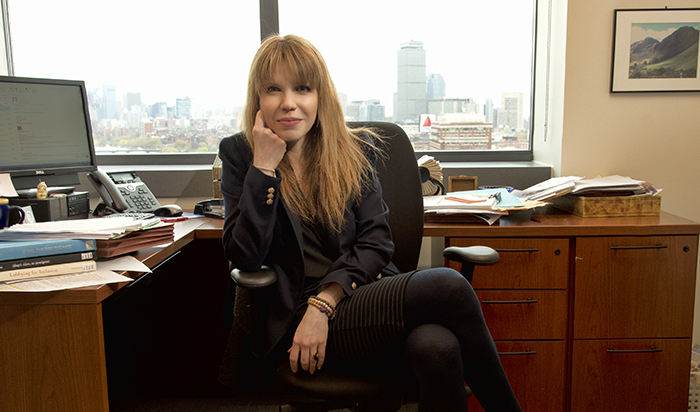 Clinical Associate Professor Karen Pita Loor will take over the position of associate dean of clinical & experiential programs on July 1. Loor steps into the role following five years of exemplary service by current Associate Dean Peggy Maisel, who will resume full-time teaching.
Maisel joined Boston University School of Law in July 2014 as the inaugural associate dean of clinical & experiential programs. During her tenure, she oversaw the expansion of the experiential learning program to include four new clinics—two in partnership with MIT—and four new practicums. The strategic partnerships she fostered, both with external partners and within the BU community at the School of Social Work, have strengthened the work of the clinics and offered BU Law students access to the experiential opportunities that complement and enrich the traditional doctrinal curriculum.
Her initiatives targeted toward small-and-medium-sized law firms and legal offices in for-profit and nonprofit organizations have enhanced the school's externships, and she led the faculty committee that developed the 1L Lawyering Program, an innovative approach to teach critical skills in research, writing, client counseling, and oral advocacy to first-year students through simulations of real-world legal disputes. Maisel also led the law school's initiatives to establish JD outcomes and assessment, including hosting a national conference and developing the first curriculum map.
This fall, Maisel will join the Civil Litigation & Justice Program and continue teaching a course on legal ethics and professional responsibility for students completing externships. She is also developing a course that will prepare students taking international placements in the Semester-in-Practice program. "BU Law has made a real commitment to the clinical and experiential program," she says. "It's been a wonderful opportunity to help develop innovative initiatives that provide high-quality training for our students."
Karen Pita Loor joined the BU Law clinical faculty in 2011 after serving as a clinical associate professor with the Florida International University College of Law supervising law students representing unaccompanied immigrant children in immigration and neglect proceedings. She started her legal career as a staff attorney in the Public Defender Service in Washington, DC, where she represented indigent clients in criminal trial and appellate matters. During her eight years at BU Law, Loor has taught and supervised student attorneys in the Defender Clinic of the BU Criminal Law Clinical Program, where her students represent indigent clients charged with crimes in the Boston District Court. Loor also developed and teaches a seminar titled Regulation of the Immigrant Experience that examines, through a legal lens, the obstacles immigrants face in American society.
An active member of the BU Law community, Loor has organized two trips to Tijuana, traveling with Julie Dahlstrom and Sarah Sherman-Stokes of the Immigrants' Rights & Human Trafficking Program as well as several students to assist migrants seeking asylum. As an expert on the intersection of immigration and criminal law, she has testified in support of legislation that would make Massachusetts a sanctuary state. She encourages her students to use their education to join public conversations around current legal matters, and in 2017 supervised a group of students who filed an amicus brief in a first-of-its-kind case arguing that Massachusetts state and local law enforcement do not have the authority to detain a criminal defendant pursuant to an Immigration and Customs Enforcement detainer.
In the role of associate dean, Loor will build on the accomplishments of Professor Maisel by highlighting the faculty's contributions both within and beyond the clinics. She intends to increase collaboration with faculty outside the experiential programs to increase practice-based offerings for students. Loor further hopes to institute training and support for students as they work to become culturally-competent and trauma-informed lawyers. She will institute programming that encourages students to explore systemic problems related to poverty and race that affect the client population of many of the clinics.
"Through our clinics, practicums, and externships, BU Law students learn, engage in valuable public interest and service work, and build productive working relationships with practicing attorneys," Loor says. "These programs are part of our connection to and our impact on our own community, as BU Law students practice in local courts—and even the world—as they travel on international legal services projects. I am honored and thrilled to work with the rest of the experiential faculty as we continue to practice, innovate, and consider the ways in which our programs can positively impact our students and the legal profession as well as empower vulnerable client populations."
---
Related News