CARB-X Funds Debiopharm to Develop a New Class of Antibiotics to Treat Hospital-Acquired Pneumonia
Debiopharm's new Debio 1454 is the company's second project to be awarded CARB-X support.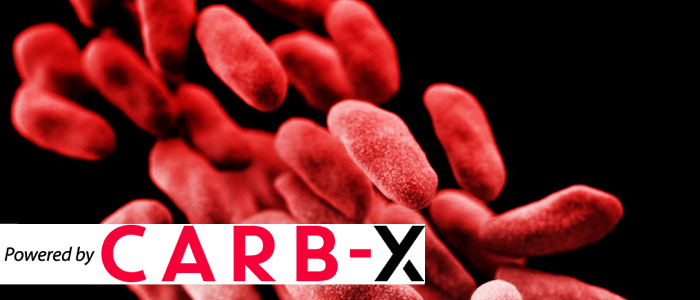 (BOSTON, USA) – CARB-X is awarding Debiopharm International SA of Lausanne, Switzerland, up to $2.1 million in non-dilutive funding with the possibility of $1.6 million more if certain project milestones are met, to advance the development of a new class of antibiotics that inhibit bacterial fatty acid biosynthesis, an essential pathway in many drug-resistant bacterial species. This new class of antibiotics is in development for the treatment of hospital-acquired pneumonia caused by the multidrug-resistant superbug Acinetobacter baumannii.
"The world urgently needs new approaches, new classes of antibiotics and rapid diagnostics to treat infections caused by drug-resistant bacteria. Debiopharm's Debio 1454 project represents an exciting new class of antibiotics, that if successful and approved for use in patients, could save lives and be a huge step forward in the global fight against drug resistance," said Kevin Outterson Executive Director of CARB-X and professor of law at Boston University. "We are making solid progress in supporting antibacterial innovation, but we know that much more is needed. It will take increased investment and concerted global leadership to deliver the antibiotics and other life-saving products we need to address the superbug crisis."
Gregoire Vuagniaux, Director of Translational Science of Debiopharm International SA said: "CARB-X's grant will help support the development of Debio 1454, a new class of antibiotics targeting A. baumannii, one of the priority 1 critical pathogens identified by the WHO. We are really excited to continue developing innovative antibiotics that not only target specific priority pathogens but also spare the natural microbiome, reducing the potential for dysbiosis and development of resistance."
FabI is essential for several bacterial species, including multi-drug resistant A. baumannii, a rapidly emerging pathogen that causes infections including pneumonia, meningitis, urinary tract infection, and wound infection. This organism's ability to survive under a range of environmental conditions and to persist for extended periods of time on exposed surfaces makes it a frequent cause of infectious disease outbreaks in health-care settings. These resilient bacteria present a concern for hospitalized patients with weakened immune systems as they are particularly vulnerable.
FabI inhibitors work by inhibiting an essential fatty acid biosynthesis protein. This disruption prevents the bacteria from manufacturing critical fatty acid cellular components, weakening cell membranes and the cell wall, ultimately leading to bacterial cell death.
According to the World Health Organization, an estimated 700,000 people die each year worldwide from bacterial infections. In the United States, an estimated 23,000 people die each year from drug-resistant bacterial infections. In Europe, the number of deaths yearly is estimated at 33,000.
This represents Debiopharm's second project to be funded by CARB-X. In 2017, CARB-X announced support for the development of Debio 1453, a novel antibiotic FabI inhibitor targeting the Neisseria gonorrhoeae superbug, the causative bacterium in the spread of sexually transmitted difficult-to-treat gonorrhea.
Partnership driving antibacterial innovation globally
The CARB-X portfolio is the world's largest antibacterial development portfolio with 29 projects in five countries, and is expected to increase significantly this year. Since its inception in 2016, CARB-X has announced awards for 43 projects in seven countries exceeding $118 million, with the possibility of additional funds if project milestones are met, to accelerate the development of antibacterial products. These funds are in addition to investments made by the companies themselves. In addition to funding, CARB-X provides business and scientific support for projects through the CARB-X Global Accelerator Network, a network of 10 expert organizations around the world. The CARB-X pipeline will continuously evolve, as projects progress and others fail for a variety of reasons.
CARB-X recently announced four new funding rounds for 2019, each with a specific scope and application period in the coming months. Product developers from around the world are invited to apply for funding and support for non-traditional therapeutics, vaccines and biotherapeutics, diagnostics, and direct-acting small molecule antibiotics.
CARB-X is investing up to $550 million in antibacterial R&D between 2016-2021. The goal is to support projects through the early phases of development through Phase 1, so that they will attract additional private or public support for further clinical development and approval for use in patients. The scope of CARB-X funding is restricted to projects that target drug-resistant bacteria highlighted on the Centres for Disease Control and Prevention (CDC)'s 2013 Antibiotic Resistant Threats list, or the Priority Bacterial Pathogens list published by the WHO in 2017 – with a priority on those pathogens deemed Serious or Urgent on the CDC list or Critical or High on the WHO list.
This news release is supported by the Cooperative Agreement Number IDSEP160030 from ASPR/BARDA and by an award from Wellcome Trust. The contents are solely the responsibility of the authors and do not necessarily represent the official views of the HHS Office of the Assistant Secretary for Preparedness and Response, Wellcome Trust, or other CARB-X funders.