Massachusetts Bar Association Honors BU Law Faculty, Alumni, Student
James Van Buren ('75), Francis Morrissey ('94), and Mario Paredes ('18) were chosen to receive awards at the MBA's annual dinner.
The Massachusetts Bar Association (MBA) honored three members of the Boston University School of Law community at its annual dinner on April 24. Francis Morrissey ('94), a lecturer in BU Law's LLM in Banking & Financial Law Program, was presented with the 2018 President's Award; Mario Paredes ('18) was selected to receive the Oliver Wendell Holmes Jr. Scholarship; and James Van Buren ('75) was named the Pro Bono Publico Attorney, one of the organization's Access to Justice Awards.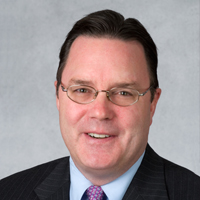 Francis Morrissey is a partner in the firm of Morrissey, Wilson, & Zafiropoulos LLP, where he concentrates his practice in the areas of commercial litigation, insolvency and distressed acquisitions and divestitures. He teaches courses on bankruptcy law and creditors' rights in the LLM in Banking & Financial Law Program. The MBA President's Award honors "individuals who have made a significant contribution to the work of the MBA, to the preservation of MBA values, to the success of MBA initiatives, and to the promotion of the MBA leadership role within the legal community of Massachusetts," according to the organization's announcement. Morrissey was recognized for his work with the MBA's recently launched Student Loan Bankruptcy Assistance Project, which connects borrowers in distress with attorneys and law firms that will provide pro bono representation in bankruptcy proceedings.
According to the MBA, recipients of the Oliver Wendell Holmes Jr. Scholarship are selected from third-year law students in Massachusetts who are "committed to providing legal assistance to underrepresented individuals/communities upon graduating." Mario Paredes has advocated for immigrants' rights and criminal justice reform since before joining the BU Law community. As a student, he participated in the Immigrants' Rights & Human Trafficking Program, focusing his fieldwork on immigrants' rights and assisting people at Logan Airport affected by President Trump's Executive Orders banning travelers from majority Muslim countries. He received a fellowship from the Rappaport Center for Law and Public Policy to support a summer position with the Office of Massachusetts State Senator Will Brownsberger and has volunteered for Spring Break Pro Bono Service Trips with the South Texas Pro Bono Asylum Representation Project in Harlingen, Texas, and the Southern Poverty Law Center's Southeast Immigrant Freedom Initiative in Jena, Louisiana. He serves on the board of Centro Presente, a nonprofit group that advocates for Latin American immigrant communities in Massachusetts, and was named to El Mundo's "Latino 30 under 30" list in 2016.
The Access to Justice Awards are presented to "attorneys and law firms dedicated to helping others and enhancing the legal profession," the MBA notes. James T. Van Buren, who owns and manages his own firm in Fitchburg, Massachusetts, is one of six attorneys and one law firm honored with these awards. The MBA notes that Van Buren has dedicated "thousands of pro bono hours to individual clients and community groups, and to advance systemic change as a member of the MBA's Access to Justice Section Council and the SJC's Access to Justice Commission."
BU Law congratulates Van Buren, Morrissey, and Paredes on this well-deserved recognition!
Related News