Exploring the 21st Century Cures Act
The annual American Journal of Law & Medicine Symposium considered the implications—intended or otherwise—of the landmark legislation.
Health law scholars and practitioners from across the country gathered recently at Boston University School of Law for the annual American Journal of Law & Medicine (AJLM) Symposium. Participants considered the landmark 21st Century Cures Act, which passed into law in December 2016 with impressive bipartisan support.
Prompted by public outcry over price and access to pharmaceuticals, as well as industry pressure to alleviate regulatory constraints, the Cures act intended to tackle hindrances in the biotechnological space and drive drug and device innovation. Speakers and attendees were welcomed by Andrea-Gale Okoro, AJLM editor-in-chief, and Fran Miller, professor emeritus who has taught a seminar on food and drug law at BU Law since 2003.
"The Cures act is an unusual piece of legislation in terms of how universally it was accepted," Professor Miller said. "It affected mostly the National Institutes of Health and the Food & Drug Administration (FDA), but the many moving parts involving such issues as the opioid crisis and mental health make the impact broader than anyone originally thought it would be. It's a very important piece of legislation that has not yet been deeply explored."
The symposium began with a presentation by Jacqueline Fox, of the University of South Carolina School of Law. Fox focused on the time and resources wasted when patients are given care they don't need. She suggested the mechanisms in the Cures act meant to speed innovation in drug development may create incentives for drug manufacturers to manipulate data in trials, so leading to more waste in the system. Anthony Orlando and Arnold Rosoff then examined the growing market of consumer health care devices and applications: fitness trackers, smartphone apps, smart watches, and more. Rosoff and Orlando warned against privacy concerns and suggested they may one day fall under the scope of the FDA as these devices grow in popularity and insurance providers increasingly reward consumers for using them.
Continuing the conversation about the regulatory instruments built into the Cures act, Barbara Evans, of the University of Houston Law Center, discussed the challenges of regulating clinical decision support software in which machine learning can be used to cull information from large datasets and offer recommendations on who gets what type of care. Margaret Foster Riley, of the University of Virginia School of Law and School of Medicine, explored how unclear standards for stem cell and gene therapies have given rise to unregulated stem cell clinics across the country, but found reason for optimism in some of the statute's provisions. Finally, Michael Sinha, of Brigham & Women's Hospital and Harvard Medical School, evaluated the success (or lack thereof) of the FDA's priority review voucher program.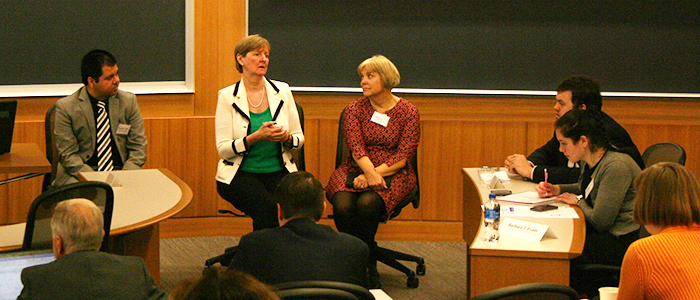 Peter Barton Hutt, senior counsel at Covington & Burling and professor of food and drug law at Harvard Law School, delivered the keynote address. Hutt is known as the "godfather of FDA knowledge." As the former chief counsel for the FDA, he has written most of the modern legislation that governs food and drug law. His talk covered the history of food and drug regulation in the United States. "No one has ever sat down and put together in one place the 200-year history of federal regulation of drugs in the US," Hutt said, "so I decided it was time to do it."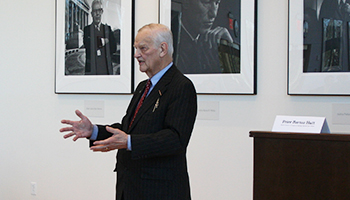 The first afternoon panel delved deeply into the challenges and regulatory considerations of developing the real-world evidence (RWE) promoted by the statute. Sebastian Schneeweiss of Brigham & Women's Hospital and Harvard Medical School explored progress in health care database analysis, as a supplement to clinical trials, in generating evidence on the effectiveness, harm, and value of medical products. Joan Krause and Richard Saver, of the University of North Carolina, then cautioned that claims about real-world effectiveness's wide-ranging impact on the health care system are likely overstated, and warned that increased reliance on RWE could have significant implications for off-label fraud enforcement. University of Arizona Professor of Law Chris Robertson discussed the way Practice-based Research Networks could advance the use of RWE in evaluating medical products by improving clinical care and translating research findings into practice.
Next, Jordan Paradise of Loyola of Chicago Law School discussed the potential for a broader role for "citizen science" stakeholders within the Cures act. Noting that patient advocacy groups have been leading the charge regarding pharmaceutical products, she identified "iterative changes" that have enhanced the FDA's ability to consult outside sources for information. Sam Halabi of the University of Missouri Law School examined how standards for evidence-based therapeutic and cost-comparative claims have relaxed under the Cures act, finding that many of the constraints intended to protect patients and doctors from off-label marketing practices no longer exist.
In the final panel, Jennifer Bard, visiting professor of law and medicine at Penn State University, noted that the deinstitutionalization movement of the 1970s has led to high rates of mental illness in prison populations in the US. Sounding an optimistic note, Bard highlighted the reauthorization and funding in the Cures act for programs that prevent people who are mentally ill from becoming entangled in the prison system. Leo Beletsky, of Northeastern University School of Law, examined the potential of the Cures act to address the opioid crisis. His empirical analysis suggested that interventions have focused more on curbing over-prescription of drugs than on broadening access to methadone and other treatments that have been shown to be more effective. Finally, Leslie Wolf, of Georgia State University, analyzed Certificates of Confidentiality and the provisions designed to facilitate research involving sensitive data and protect it from compelled disclosure.
Events like the AJLM Symposium allow pre-eminent scholars to come together with the BU Law community to engage with critical issues of utmost importance. Papers presented at the symposium will be published in a forthcoming issue of the AJLM.