CARB-X Calls for New 'Open Science' Era in Antibacterial Innovation
BU Law-based antibiotic accelerator asserts that sharing scientific data will help speed the delivery of new antibiotics and other life-saving products to fight superbugs.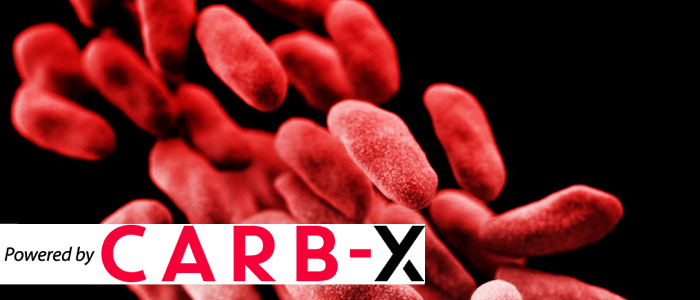 Achaogen will share valuable LpxC compounds and data with Forge Therapeutics, with both companies leading the 'open science' initiative among CARB-X-funded companies.
Kevin Outterson, executive director of CARB-X and professor of law at Boston University School of Law, is calling on antibacterial researchers around the world to "help others learn from their setbacks" by sharing data from unsuccessful research in an effort to accelerate the development of life-saving antibiotics and other products to treat drug-resistant infections. Outterson applauded Achaogen of South San Francisco for already agreeing to share compounds and data from its discontinued LpxC inhibitor discovery program with Forge Therapeutics of San Diego.
In a ground-breaking agreement facilitated by CARB-X, Achaogen has agreed to the non-exclusive transfer of compounds, scientific data and assays to Forge from its innovative LpxC program. Achaogen announced last year that it had stopped the early development program due to unexpected toxicity findings. Forge plans to review Achaogen's body of LpxC knowledge to potentially gain insight and apply the findings to its on-going LpxC research program. Using a different chemistry approach than Achaogen, Forge is developing a novel class of antibiotics to treat Gram-negative bacteria such as Pseudomonas aeruginosa and Enterobacteriaceae superbugs.
"Science is hard; most projects end for any number of reasons. Typically, this knowledge and even the compounds themselves would be shuttered and locked away after a project is stopped," Outterson said. "Given the economic realities of antibacterial research and the urgent need for new antibiotics, we need to adopt a more collaborative approach where it makes sense to do so."
CARB-X is encouraged by public data-sharing initiatives like the SPARK initiative announced by PEW Charitable Trusts last year and Wellcome Trust's Open Research initiative launched in 2016 and he would like to see more sharing of antibacterial research data. Improved access to the results of funded science research is also a priority for governments including the US and UK, and for the Bill & Melinda Gates Foundation.
"We need to find ways to unleash the power of collaboration to develop new approaches to combat drug resistance," said Outterson. "We are proud today that Achaogen and Forge are pioneering a new way of working. Achaogen's expertise and valuable work will not go to waste. With a different chemistry approach, Forge is optimistic that their LpxC inhibitor projects may advance."
"We are supportive of this open science initiative to advance the science and potential solutions to the antimicrobial resistance crisis," said Blake Wise, CEO of Achaogen. "Our LpxC program yielded a potent lead compound and we are very hopeful that our research will contribute to the development of novel antibiotics to treat gram-negative infections."
Zachary A. Zimmerman, PhD, CEO of Forge, said: "We are confident that Forge's novel chemistry platform called BLACKSMITH can advance our LpxC program toward the clinic. CARB-X's open science initiative enables data from other programs, like Achaogen's, to be shared across the broader scientific research communities, increasing our collective knowledge, as we fight against antibiotic resistant superbug bacteria."
Wellcome Trust, a global charity based in the UK working to improve health globally and one of CARB-X's major funders, provided the inspiration for CARB-X Open Science. A strong proponent of open innovation, Wellcome Trust's Open Research initiative encourages Wellcome-funded researchers to share articles and data on a public database. Tim Jinks, head of Wellcome's Drug-Resistant Infections Priority Programme, said: "We need new approaches and new ideas if we are to effectively tackle the rise and spread of superbugs. If companies share scientific data and expertise, and work more together overcoming scientific challenges, we can speed up the advances and innovation in product development needed to get the new treatments urgently needed for patients."
New antibiotics, diagnostics and other products are needed urgently to treat bacteria that are increasingly resistant to existing antibiotics. According to the WHO, an estimated 700,000 people die each year worldwide from bacterial infections. In the United States, an estimated 23,000 people die each year from drug-resistant bacterial infections, according to the Centers for Disease Control and Prevention (CDC).
LpxC is an enzyme that plays a critical role in Lipid A biosynthesis, an essential process for the formation of the Gram-negative outer membrane. The outer membrane is key to drug resistance, shielding the bacteria from the killing effects of antibiotics. By inhibiting LpxC function, the growth and strength of the outer membrane is stunted, resulting in bacterial cidality, which means killing the bacteria. LpxC would represent an entirely new class of antibiotic against Gram-negative bacteria, the most dangerous type of superbugs. If approved by the FDA, this would be the first new class against Gram-negatives in more than half a century.
Expanding portfolio
CARB-X currently supports 32 R&D projects, including projects under development at Achaogen and Forge. CARB-X, which stands for Combating Antibiotic Resistant Bacteria Biopharmaceutical Accelerator, funds projects in six countries and is working to expand its pipeline with great science from around the world.
CARB-X is investing more than $500 million in antibacterial R&D from 2016 to 2021. The goal is to support projects through the early phases of development through Phase 1, so that they will attract additional private or public support for further clinical development and approval for use in patients. The scope of CARB-X funding is restricted to projects that target drug-resistant bacteria highlighted on the CDC's Antibiotic Resistant Threats list, or the Priority Bacterial Pathogens list published by the WHO in 2017, with a priority on those pathogens deemed Serious or Urgent on the CDC list or Critical or High on the WHO list.
CARB-X is a nonprofit partnership launched by the US Department of Health and Human Services Biomedical Advanced Research and Development Authority (BARDA), part of the Office of the Assistant Secretary for Preparedness and Response (ASPR), the Wellcome Trust, and the National Institute of Allergy and Infectious Diseases (NIAID), part of the US National Institutes of Health (NIH). In May 2018, CARB-X added two new funding sources, the UK Department of Health and Social Care and the Bill & Melinda Gates Foundation.
CARB-X's support for the Achaogen and Forge projects is possible thanks to funding from the Wellcome Trust and BARDA.