Professor Pnina Lahav Honored with Lifetime Achievement Award
The Association for Israel Studies (AIS)–Israel Institute recognizes Lahav's contribution to the field of Israeli Studies.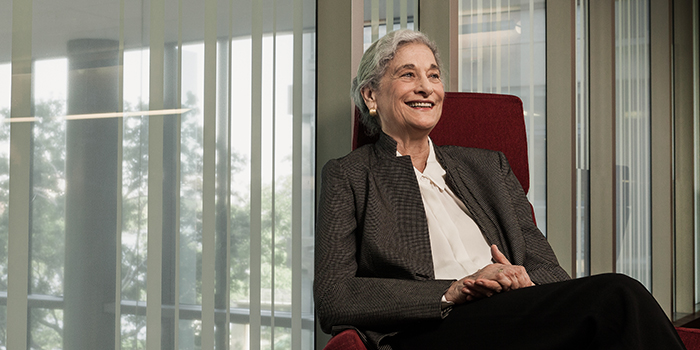 Professor of Law and Law Alumni Scholar Pnina Lahav has spent her career examining Israeli law in the context of history and culture. Her work is considered foundational in several fields, including women's rights, freedom of expression, and judicial biography. The Association for Israel Studies (AIS), in cooperation with the Israel Institute, have recognized that work by honoring Lahav with a Lifetime Achievement Award.
Given each year at the AIS annual conference, the award honors "a lifetime of exceptional scholarship and academic achievement in the field of Israel Studies." Nominations—this year solicited from the fields of law and social sciences—are considered by a committee of international intellectuals, who select scholars "whose lasting and path-breaking contributions have significantly shaped the field." Lahav is the first legal scholar to receive the award. Alan Dowty, professor of political science emeritus at the University of Notre Dame, will be honored for his contributions to Israel Studies in the social sciences.
Professor Lahav's scholarship encompasses Israeli legal history, women's rights, and freedom of expression. She has authored more than 50 journal articles and three books, published in English, Hebrew, and Russian. In her biography of the Hon. Simon Agranat, American-born president of the Supreme Court of Israel, Judgment in Jerusalem: Chief Justice Simon Agranat and the Zionist Century, she explores major events of the twentieth century, including developments in Palestine and Israel, and traces the influence of American political and legal thought on Israeli society. The book, which helped launch the field of legal history in Israel, won the Seltner Award and the Gratz College Centennial Book Award.
"One of the goals of my research is to show how Israeli law has been influenced by American law," she says. "These are not just two legal systems rooted in the common law. Israeli law is deeply influenced by American law in many ways." It is especially connected to American liberal thought and ideals. For example, the principles of freedom of expression, especially the doctrine of clear and present danger established by the US Supreme Court in 1919, have been integrated in Israeli case law since 1953. In another piece, Lahav has discussed the shift in Israeli legal education from the European model, largely dependent on lectures and legal commentaries, to the American model based on case law and class discussion.
Forthcoming in 2018, Lahav's current research project is a biography of Golda Meir, Israel's first female prime minister. Golda Meir: Through the Gender Lens brings her back to her first interest: the status of women. "I wanted to understand how Golda Meir came to power in a very thick militarist and chauvinist atmosphere," she says."To ask: 'How did Golda manage to break the highest ceiling?' "
Lahav will receive the Lifetime Achievement Award at a ceremony during the AIS annual meeting at Brandeis University in June. "The judges of this award are very prominent international scholars," Lahav says. "I feel much honored to receive this award and thereby join previous winners, who are all giants in their fields."
Related News