Michael C. Harper Testifies before the US House Committee on Education and the Workforce
A scholar of employment law, Harper offered his expertise as representatives considered legislation that may change the way the law recognizes joint employment.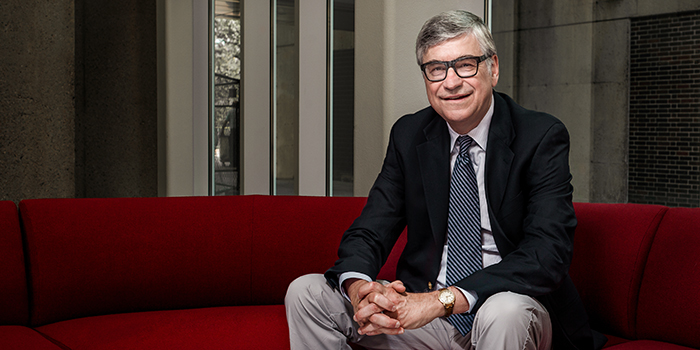 Professor of Law and Barreca Labor Relations Scholar Michael C. Harper testified recently before the United States House of Representatives Committee on Education and the Workforce at a hearing called "Redefining Joint Employer Standards: Barrier to Job Creation and Entrepreneurship."
The committee called the hearings to consider legislation that would change the way the law defines "joint employment." Many committee members and some businesses believe that the standards are too vaguely-worded, and may be harmful to franchise-based businesses.
"With all due respect, I think this hearing is in reaction to a lobbyist-manufactured tempest in a teapot," said Harper's statement to the committee. "This committee should be focusing on how to ensure the protection and training of the American workforce in rapidly changing global labor markets, not speculative pseudo-problems that even if real, could easily be controlled by the federal judiciary."
Harper noted that much of the concern stems from recent actions by the National Labor Relations Board. After Browning-Ferris Industries of California (BFI) refused to negotiate with a group of workers represented by the Teamsters sent by a subcontracting agency to work at the waste management company, the Board ruled that the workers were jointly employed by BFI and the agency. In addition, NLRB General Council Richard Griffin has tried to classify McDonald's as a joint employer of its franchisees' workers. Those who support the new legislation worry that increasing potential liability for franchisors and contractors by putting them on the hook as "joint-employers" will open those companies up to increased risks, leading to greater obstacles for aspiring entrepreneurs who want to get their foot in the door as franchisees or subcontractors.
But Harper says that this concern has mostly been manufactured by lobbyists for franchisors, who have worked to convince legislators and small business owners that the NLRB's stance on joint employment will inhibit small entrepreneurs.
"Legislation framed to address the BFI decision is not needed to protect franchisees or other small businesses, and indeed could lead to a contraction of those businesses' independence," Harper argued.
If companies are worried about protecting themselves under the common law or the Fair Labor Standards Act, Harper said, they can include hold harmless and indemnification clauses in contracts with subcontractors or franchisees. He also said that the legitimate business models of contractors are designed to "subcontract work beyond the core competencies from which they can garner their greatest profits," not to avoid responsibilities to workers. Similarly, the franchise business model is based on legitimate incentivizing of managers.
In addition, Harper asserted that the BFI decision was "narrowly-framed" and conformed to common-law standards of joint employment—and if it did not, the courts reviewing the Board's decisions could correct it.
"Selective Congressional intervention—such as legislation to overturn executive branch opinions defining joint employment—before completion of the processes of judicial review only would engender greater legal uncertainty, troublesome inconsistencies between the common law and federal statutory law, and the erosion of protections for the American worker," Harper said.
Harper also expressed concern that businesses who find themselves free of any liability for subordinate businesses' employees might exercise more control over those businesses, not less. "As their business models have developed under the common law, franchisors and contractors have been content to allow smaller associated businesses significant discretion over employment matters," he said. "If a modification of the common law allows them to exert more control without any potential liability, franchisors and contractors increasingly may use modern computer technology to exert that control."
Harper is a recognized expert in employment law, labor law, and employment discrimination and the author of several books and articles on those topics, including a number of casebooks. His testimony to the committee reflected research he had done as reporter for the American Law Institute's Restatement of Employment Law. A major focus of his work was a chapter on "the definition of the employment relationship."
Harper urged the congressional committee to leave new legislation out of the continuing conversation on the definition of joint employment in American law.
"Passing legislation to insulate franchisors and large business contractors from responsibilities under employment statutes may be good for those businesses. But it certainly does not protect real franchisees and other small businesses or the entrepreneurial opportunities such businesses may offer," Harper said.
Harper testified before the same committee in 2015, in a hearing on the Protecting Local Business Opportunity Act.
Reported by Trevor Persaud (STH'18)
Related News