Hon. Guido Calabresi and the Future of Law and Economics
BU Law welcomed scholars to celebrate the work of a distinguished scholar and judge, and to examine how a set of policy tools will function in the 21st century.
On June 1 and 2, 2017, distinguished scholars working in law and economics gathered at the Boston University School of Law to honor, discuss, and expand on the contributions of Judge Guido Calabresi. A famed scholar, former dean of the Yale Law School, and now senior judge of the US Court of Appeals for the Second Circuit, Calabresi is one of the key progenitors (along with Judge Richard Posner of the US Court of Appeals for the Seventh Circuit and Nobel Laureate Ronald Coase) who founded this influential interdisciplinary movement that applies economics to understanding the law.
Calabresi's recent book, The Future of Law and Economics, argues that the relationship between law and economics must be reciprocal. Not only can law profit from attention by economists, but in addition, proper attention to law can expand the agenda of economic research and knowledge. The conference, eponymously named The Future of Law and Economics and the Legacy of Guido Calabresi, examined that thesis and many other issues.
The symposium was co-organized by BU Law's Wendy J. Gordon. Professor Gordon, who holds a William Fairfield Warren Distinguished Professorship, welcomed participants to BU with an overview of Judge Calabresi's life and work. "What's so wonderful about Guido's scholarship is the double edged nature of its concerns. Guido both insists on analytic rigor and demands that account be taken of the complexity of human experience."
Professor Giovanni B. Ramello, of the Università del Piemonte Orientale, a co-organizer of the symposium, framed the event as a conversation meant to explore the European connections of the founders of the field and to re-examine the foundation of law and economics in order to identify a path for its future.
Speakers included Judges Calabresi and Posner, as well as Judge Alex Kozinski of the US Court of Appeals for the Ninth Circuit, Calabresi's co-authors Douglas Melamed and Philip Bobbit, and scholars from both the US and Europe.
The symposium began with Melamed, Bobbit, and Michelman, as a panel reflecting on how the field of law and economics developed. Like many of the other speakers, these three who were present at the beginning spoke of the important role Judge Calabresi's guidance and mentorship played in their lives.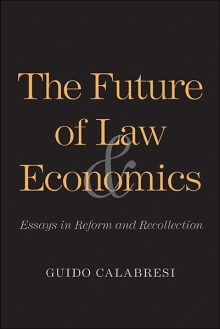 A. Douglas Melamed, professor of the practice of law at Stanford Law School, recalled a seminar he took at Harvard Law School, co-taught by Calabresi and an economics professor, about the problems and relations of economics and the law. This course today, he mused, would be called an introduction to law and economics. He and Calabresi developed their famous paper, "Property Rules, Liability Rules, and Inalienability: One View of the Cathedral," in part from a paper that Melamed wrote for Calabresi's course. The Cathedral article is a germinal piece; this now-classic paper offers a framework for unifying the legal analysis of areas that were previously considered separate, like property and torts.
Philip Bobbitt, Herbert Wechsler Professor of Federal Jurisprudence, director of the Center for National Security at Columbia Law School, and senior lecturer at University of Texas (Austin) School of Law, was a student research assistant working on Calabresi's first book, Tragic Choices. When Calabresi asked him to be a co-author of the book, Bobbitt recalled the invitation as an act of generosity: "If ever an act embodied his personality—Calabresi's scrupulous integrity, emotional warmth, and empathy—it was then."
Frank Michelman, Robert Walmsley University Professor emeritus at Harvard Law School, intersected with law and economics as a young property law professor. An article he wrote on regulatory takings influenced Judge Calabresi, as the latter notes in his recent book, and opened up a new space in the field. Michelman characterized his relationship with Judge Calabresi as, "a little senior to junior… Guido, as much or more than any of my Harvard colleagues, helped to give me confidence as a scholar."
Panels throughout the symposium examined methodological, institutional, and conceptual issues raised by Judge Calabresi's scholarship. BU Law William Fairfield Warren Distinguished Professor Keith Hylton presented a paper, "Law and Economics versus Economic Analysis of Law;" BU Law Professor Kathryn Zeiler presented "Mistaken about Mistakes," regarding behavioral economics; and Associate Professor Rory Van Loo offered "Consumer Law as Tax Alternative," a novel angle on the tangled tax-and-transfer debate. Many other BU faculty participated, such as Howard Zhang Faculty Research Scholar and Associate Dean for Academic Affairs Frederick Tung, who served as a commentator to Van Loo's paper.
Hon. Alex Kozinski and his law clerk, Conor Clarke, a Yale Law School PhD candidate in law, presented a joint paper that examines whether law and economics scholarship influences judicial decision making. In their empirical analysis of academic and judicial citations, they found that law and economics scholarship was well represented within the academy, but that many top law and economics papers were used less frequently in the judiciary. "As a discipline, economics has had a substantial impact on the way lawyers—and consequently judges—think about law," Judge Kozinski said. "But the number of times we actually resort to the scholarship of economics is small… ." Kozinski and Clarke did note that when law and economics papers were cited by judges, they tended to involve antitrust, torts, corporate law, civil procedure, and intellectual property.
In response, Hon. Richard Posner of the US Court of Appeals for the Seventh Circuit and the University of Chicago Law School, offered his thoughts on how judges use economics and on Judge Kozinski and Mr. Clarke's paper. Judge Posner's Economic Analysis of Law and his many other books and articles are among the scholarship that most helped define the field.
Throughout the two-day conference, Judge Calabresi commented on and replied to the many speakers and papers. To conclude the symposium, he thanked the organizers and presenters for pushing the quest of law and economics scholarship further. "That, for someone who has spent his life in that quest, is a magnificent event," he said. His new book, he noted, was in a very real sense an old man's book. It gives suggestions for where to look, but gives very few answers. "I don't have time for answers," he said, "But you, the young people, do. The book says, 'Here are things that are worth investigating, now you should look further into them.' "
Selected papers presented at The Future of Law and Economics and the Legacy of Guido Calabresi will be published in a forthcoming issue of the European Journal of Law and Economics.
Reported by Caroline Lambert ('19) and BU School of Law
Related News