Critical Race Theory and the Health Sciences
American Journal of Law & Medicine Symposium considers the associations drawn between race, biology, and the law.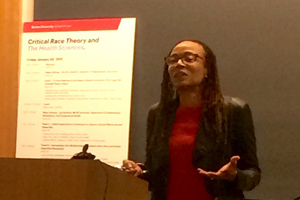 Boston University School of Law hosted its annual American Journal of Law & Medicine Symposium on Friday, January 20, 2017. This year's conference focused on the interdisciplinary topic of Critical Race Theory and the Health Sciences. Presentations considered how racial knowledge is created and how we can assess the associations drawn between race, biology, and the law by using social science methods and tools.
Khiara M. Bridges, Boston University professor in the School of Law and Department of Anthropology, organized the event with Osagie Obasogie, Haas Distinguished Chair and professor of Bioethics in the University of California, Berkeley's Joint Medical Program and School of Public Health, and Terence Keel, assistant professor in the University of California, Santa Barbara Department of Black Studies and Department of History.
Professor Obasogie welcomed participants by noting the importance of blending critical race theory and social science methods in order to understand how race is socially and legally constructed. He discussed how rules and doctrines produce outcomes that systematically disfavor racial minorities—a disfavor that persists in the seemingly "outside" field of health sciences and medicine. Professor Keel stressed that the vision of this year's symposium was to create cross-campus, national, and international conversations that move the field forward toward new research and new goals.
Dorothy Roberts, George A. Weiss University Professor of Law and Sociology and Raymond Pace and Sadie Tanner Mossell Alexander Professor of Civil Rights at the University of Pennsylvania School of Law, delivered the first major address of the symposium. Roberts examined the intersection of race and health sciences by first charting the legal and sociological history of race. Europeans who sought to create differences in race to justify slavery characterized race as a biological trait rather than a social construction, and wrote laws to reflect that power hierarchy.
By naming biology—something that cannot be changed—as the cause for social disadvantages, the law and health sciences responded by looking to intervene in people's bodies, with legal authority, as opposed to looking to intervene in social structures and inequality producing institutions. Neglecting to look at the full picture creates a self-perpetuating problem: structural inequality has a devastating impact on minorities' access to health care. This lack of access leads to increased illnesses and premature births, which preserves the idea that race is biological and ignores sociological causes and solutions.
The second major address was delivered by Jay Kaufman, professor of epidemiology, biostatistics, and occupational health at McGill University, whose research focuses on social epidemiology, health disparities, epidemiologic methods, and causal inference. In his lecture, Kaufman considered how statisticians look at the world and the inferences they make with regard to statistical models.
"We usually don't take the raw data itself," said Kaufman. "We usually perturb the data in some way because there are improprieties in the data that we want to eliminate." He expanded on the argument, describing how some researchers regard variables as a nuisance to the causation that they're interested in researching.
As an example, he described a study where authors reported that African-American subjects had a greater incidence of asthma. The raw data collected on a group of roughly 1,000 patients indicated no racial difference for patients with asthma. However, after researchers "normalized" the data with regard to age, sex, body mass index, and uncontrolled asthma, they found that African-American subjects exhibited greater eosinophilic airway inflammation. Kaufman argued that these adjustments to the data were unfounded, especially whether or not a patient's asthma was under control, since this is a direct function of a patient's race, which affects the quality of health care that a patient receives. "How do we decide what is permissible to adjust in a statistical model?" Kaufman asked. "What are appropriate 'nuisances' to adjust for in our research, and what adjustments are an affront to our sense of justice?"
The conference closed with a lecture by Patricia Williams, James L. Dohr Professor of Law at Columbia Law School, who spoke about privatization and ownership, and the punitive governance of "race as disease and disease as race." In other words, that race is inherently criminalizing. She pushed back against the idea of 'racial purity,' asserting that we cannot be one hundred percent anything. The effect of such thinking, she noted, is to leave certain bodies out of the realm of health care. She concluded her talk by referencing President Donald Trump's refusal to release his medical records, according to precedent in presidential campaigns, painting him as a mythological figure to some of his supporters. "Racism's greatest power," she said, "is that it rationalizes irrationality."
Reported by Caroline Lambert ('19) and Laura LoTurco ('19).