Misdemeanor Machinery: The Hidden Heart of the American Criminal Justice System

On November 3–4, 2017, scholars and practitioners convened at Boston University School of Law for the annual BU Law Review Symposium. This year's topic was misdemeanor justice, a central but often overlooked piece of the United States' criminal justice system.
Misdemeanor Justice
Misdemeanors constitute nearly 90 percent of criminal cases in American courts. Consequently, the vast majority of individuals who come into contact with the justice system interact with the misdemeanor system. Despite the expansive space that misdemeanors encompass in the United States criminal justice system, legal scholarship and public debate tends to focus on felonies.
In evaluating the scope of the misdemeanor system, Professors Sandra Mayson (University of Georgia) and Megan Stevenson (George Mason University) drew attention to both the dearth of data on misdemeanors and the challenge of developing a common definition of misdemeanors across different jurisdictions. Mayson and Stevenson presented a rigorous analysis of misdemeanor offenses across eight jurisdictions. According to their research, high rates of pretrial detention correlate with increased use of money bail, and racial disparities in enforcement abound.
Professors Jenny Roberts (American University) and Sam Gross (University of Michigan, and editor of the National Registry of Exonerations) continued by examining the role of the innocence movement within the misdemeanor system. Professor Roberts argued that the current ubiquity of video recording technologies, compounded by a massive shift in how law enforcement approaches drug testing, has illuminated wrongful convictions. At the same time, innocence claims have become more common, which Roberts attributes to increased awareness of collateral consequences that arise from misdemeanor convictions.
The second panel discussed these collateral consequences in depth. Professor Eisha Jain (University of North Carolina) began by debunking common myths about misdemeanor justice. She argued that the collateral impacts of misdemeanor convictions are actually huge and lasting, criminal procedure is often irrelevant in misdemeanor courts, and plea bargains are typically not informed. The Honorable Shira Scheindlin touched on the consequences to immigration status that can flow from misdemeanor convictions. Alexandra Natapoff (University of California, Irvine) closed the panel with compelling examples of how misdemeanor justice converts jail into a feature of poverty. Fines and fees that accompany misdemeanor convictions make incarceration an experience of the poor, blurring the line between punishment and revenue generation.
The Process is Punishment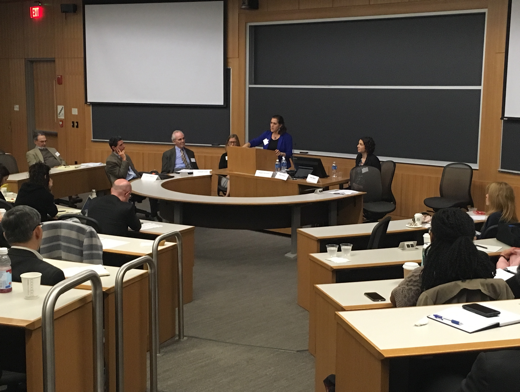 In the keynote address, Professor Malcom Feeley (University of California, Berkeley) critiqued prior reforms: Bail reform, pre-trial diversion, and electronic monitoring were innovations that ultimately failed to change incarceration rates and inflamed issues of race and poverty in the justice system.
In his view, the United States is best thought of as a failing state, more comparable to Latin America than European systems of justice. While the United States has stronger institutions and greater fidelity to the rule of law than many Latin American countries, both areas are plagued by high rates of violence and incarceration. Professor Feeley argued that the America's history of slavery and domination, along with a tradition of a weak civil service and corruption, renders purely internal reforms futile. In particular, our history of a "fragmented and protean adversary system" defeats efforts at internal reform.
According to Professor Feeley, the solution lies in imposing supplemental layers of bureaucratic oversight. Bureaucracies are characterized by a shared mission, centralization, efficiency, and accountability. By contrast, US courts typify fragmentation, differing values, and no common set of incentives. Corrective action should therefore look to theories of management and public administration for guidance. As an example of effective reform, Feeley highlighted Philadelphia's successful utilization of bench trials in lieu of plea bargaining. European justice ministries also serve as useful models of administrative accountability, providing oversight over prosecutors, defense attorneys, judges, and corrections officials.
Lawyers in Misdemeanor Courts
Friday closed with a panel on attorneys in misdemeanor practice. Professor Irene Joe (University of California, Davis) framed mass prosecution of misdemeanors as a civil rights issue, and suggested using a legal ethics lens to rethink prosecutors' roles in managing public defender case loads. Jenn Rolnick Borchetta, deputy director of the Impact Litigation Practice of The Bronx Defenders, shared her experiences as a civil rights attorney in New York City. She described a system where individuals are labeled recidivists in law enforcement databases—often incorrectly—and then arrested on the basis of these labels. Professor Bob Boruchowitz (Seattle University) ended on a hopeful note, describing court rulings and legislative reforms in Washington State that have resulted in the expanded availability of counsel and meaningful reforms around legal financial obligations. The formula for lasting reform, he argued, is a multi-prong strategy that combines impact litigation, legislative advocacy, and buy-in from key stakeholders. "Change is possible," he smiled. "I've seen it."
Reported by Brynn Felix ('18)
Related News: