Annual Pro Bono and Public Service Event Honors Ronald E. Richter ('89)
BU's Law annual event draws first-year law students to introduce public service opportunities and honor distinguished alumni.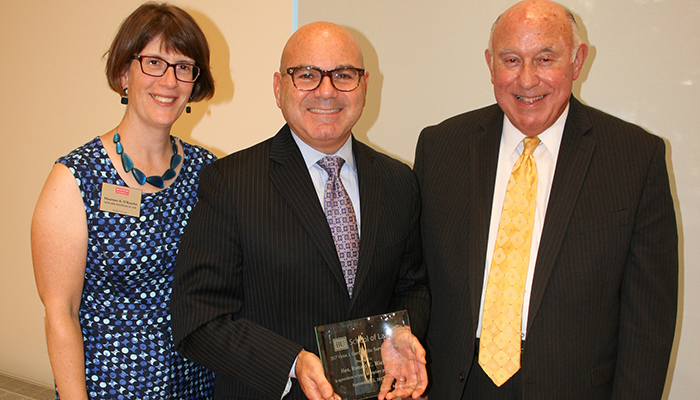 On September 12, BU Law's Career Development & Public Service Office (CDO) held its annual Pro Bono & Public Interest Community Orientation to introduce new and returning students to the abundant opportunities to engage in pro bono and public service work while in law school. Students, faculty, and staff also came together to honor the work of a distinguished alum, Hon. Ronald E. Richter ('89), who has been working with New York's vulnerable children, young people, and families for more than two decades, with the Victor J. Garo Public Service Award.
Faculty, students, and alumni submit nominations for the Garo award, which recognizes a BU Law alum whose work reflects the perseverance and dedication to public service demonstrated by Victor J. Garo ('65), who exonerated Joseph Salvati, a wrongly convicted man serving a life sentence for a high-profile murder. After 30 years in prison, Garo proved his client's innocence and secured him a $31 million settlement for wrongful imprisonment—the largest award ever given to a family in a wrongful imprisonment case in US history.
Hon. Ronald. E. Richter was a New York State Family Court Judge for four years before joining the JCCA (formerly the Jewish Child Care Association). He served as commissioner of the New York City Administration for Children's Services from 2011 to 2013. In 2016, Mayor de Blasio appointed him to the NYC Children's Cabinet Advisory Board and to the Nonprofit Resiliency Task Force. Prior to being appointed commissioner, he served as ACS deputy commissioner and as New York City's family services coordinator during Mayor Bloomberg's administration. He was also an attorney at the Legal Aid Society.
Previous alums to receive the Garo award include Pamela Hill ('77), who runs BU Law's Environmental Law Practicum, Veronica Serrato ('88), executive director of Project Citizenship, and Richard Ney ('78), who spent most of his career as a public defender before founding his firm, Ney & Adams.
The BU Law pro bono program enables students to engage in pro bono work on the state, national, and international levels. By taking the pro bono pledge, JD students commit to complete a minimum of fifty hours of law-related pro bono work over the course of their three years in law school. Students in the LLM program commit to complete a minimum of eighteen hours.
The pro bono program partners with various organizations on campus dedicated towards public service. CDO advisors assist students in identifying organizations and opportunities of interest. Each year, the pro bono program coordinates spring break service trips during which students work nationally and locally on pro bono projects. Last spring, students partnered with 12 organizations across the country to provide legal services ranging from housing law and public health to immigration for communities in need.
"The event [accomplishes] three things: introducing students to pro bono work at BU Law and beyond," says Carolyn Goodwin, director of public service & pro bono. "Second, we are providing a forum for students to meet each other, and lastly, we are really celebrating and recognizing the work of alumni who have made a difference."
Reported by Natalie Carroll (COM
'

19)
Related News