Michael Meurer Among Most-Cited IP Law Faculty in US
Professor Meurer's work received 530 journal citations between 2010 and 2014, placing him among the top 20 in Brian Leiter's recent report.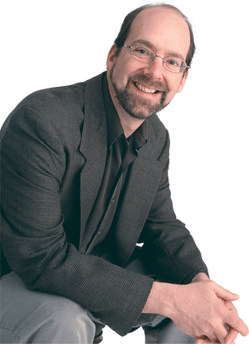 Michael J. Meurer, professor of law and Abraham and Lillian Benton Scholar at Boston University School of Law, is a well-known scholar of law and economics and intellectual property law. In recognition of the relevance of his scholarship in the intellectual property law community, Meurer was recently ranked the 15th most-cited intellectual property and cyberlaw professor in the United States, according to Brian Leiter's Law School Reports.
The ranking is based on data from a study by Gregory Sisk of the University of St. Thomas, which calculates the total journal citations of tenured faculty at the top third of ABA-accredited law schools to determine an entire law faculty's scholarly impact. That study determined that Meurer's work was cited 530 times between 2010 and 2014, placing him in the top 20 of IP and cyberlaw faculty in the country. BU Law has consistently placed among the top 25 of law schools in the US for scholarly impact.
In addition, Meurer's paper, "Notice Failure and Notice Externalities," helped the Journal of Legal Analysis achieve the top 10 percent of the impact rankings for law journals in the Journals Citation Reports. Published by Oxford University Press on behalf of Harvard Law School's John M. Olin Center for Law, Economics and Business, editors of the Journal of Legal Analysis acknowledged Meurer's work among the eight highly cited papers in 2015 that contributed to the journal being ranked for the first time since its launch in 2009.
At BU Law, Meurer teaches classes covering patents, intellectual property, and high-tech industry public policy. His research covers a diverse range of topics relating to law, economics, and intellectual property, from auction price fixing to open source genomics. He coauthored Patent Failure: How Judges, Bureaucrats, and Lawyers Put Innovators at Risk (Princeton University Press) with BU Lecturer in Law James Bessen. Meurer has received grants from the Pew Charitable Trust and the Ford Foundation and fellowships from Yale Law School and Bell Labs. He has worked with developing countries on antitrust law and served as an expert witness for the Federal Trade Commission on the topic of patent licensing.
BU Law is ranked in the top 20 on US News and World Report's list of top schools for intellectual property law. BU offers JD students a concentration in IP law, publishes the Journal of Science & Technology Law, and works with MIT to connect law students with entrepreneurs and inventors in the Entrepreneurship, Intellectual Property, and Cyberlaw program. The School has sent moot court teams to the Oxford IP Competition and brings important figures in the field to campus for the Intellectual Property Speaker Series. Students can also further an interest in the field through the Intellectual Property Law Society.
Reported by Trevor Persaud (STH'18).