Lilly Feinberg ('17) Helps Chemical Flame Retardant Bill Pass MA State Senate
Working in the office of State Senator Cynthia Stone Creem (SMG'64, LAW'66), Feinberg redrafted the bill and wrote a report arguing for its passage.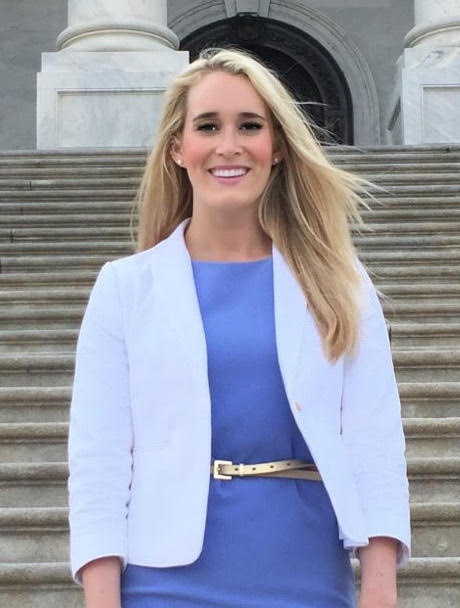 Lilly Feinberg ('17) was at work at her summer job at the Washington, DC lobbying firm American Continental Group when she first learned that a bill to ban chemical flame retardants in household products had unanimously passed the Massachusetts State Senate.
Right away, she thought of her grandfather.
"This bill really affects firefighters, and my grandfather, who's one of my favorite people ever, was a firefighter," says Feinberg, who worked in BU Law's Legislative Policy & Drafting Clinic with State Senator Cynthia Stone Creem to get the bill passed. "The entire time I worked on this bill I had this little picture of him and me from when I was little, just to inspire me and remind me who I'd be helping if I get this bill through. So I felt like if he were alive, he would have been thrilled."
The bill is a major victory for opponents of chemical flame retardants in household furniture and in products for children. This includes firefighters—for whom, Feinberg argued in a report she wrote for Senator Creem's office, the rate of cancer deaths has risen precipitously since chemical flame retardants first appeared in household products in the 1970s.
"Every single person that we know and love has flame retardant chemicals in their bodies," says Feinberg. "These chemicals actually affect our bodies. They really hurt kids, they really hurt animals, and they affect adults."
Feinberg played a role in helping redraft the bill as it traveled through the Senate; she also wrote an extensive committee report advocating for its passage.
The bill, as passed, would do two key things. First, it prohibits manufacturers and retailers from making, selling, or importing "a children's product or residential upholstered furniture" which contains any of several chemicals and classes of chemicals, often used as flame retardants, that have been shown to have toxic effects. Second, it gives the Massachusetts Department of Environmental Protection, with the help of the Toxics Use Reduction Institute and the Science Advisory Board, the job of reviewing the list every three years and adding other chemical flame retardants, if the department can demonstrate that they have similar damaging effects.
Working with Senator Creem's office, Feinberg helped make substantial changes to the bill.
"I basically rewrote the bill," she says. "They had a lot of definitions and they got really specific, in the old bill, about how many parts per million of chemicals they could have. The current bill has some of that, but it's not as restrictive. It's more expansive for the regulatory bodies to be able to adjust how much chemical can be put into a product, based on new science and technology and understanding of how these chemicals interact with human bodies."
The bill that passed the Senate, she says, isn't quite the same as her draft. "They didn't take all of my advice," she laughs, "but I didn't expect them to…but they referred a lot to my research. I think they worked through my language and picked what they liked about it."
She also wrote a 72-page committee report laying out reasons the bill was important. She recounted the history of chemical flame retardants in household products, explained the health problems linked to them, and argued that the proposed bill was the best solution.
"Chemicals used in foods, drugs, and pesticides go through toxicity tests before products go on the market; all other chemical laden products, including carpet goods, children's goods, and furniture goods, are innocent until proven guilty," Feinberg wrote.
According to Feinberg, Senator Creem's office said the report was the most thorough report they'd ever seen. "Like I said, I had a good reason to work hard—I was inspired."
For Feinberg, drafting legislation and arguing for causes she believes in connects very well with her career goals. "I'm the only person I know who came to law school wanting to be a lobbyist," she says. "I knew from the start that the Legislative Clinic was something that I had to do."
Professor Sean Kealy, who worked as Senator Creem's legislative advisor from 1999 to 2007, heads the legislative clinic at BU Law.
"He's probably one of those most inspiring people I've ever met in my life," Feinberg says of Kealy. "He cares so much about politics and he's just a really genuinely good person who believes in every student he has."
Senator Creem is also an alumna, having graduated from BU's School of Management (now the Questrom School of Business) and BU Law. Elected in 1998, Creem is serving her ninth term in the Massachusetts State Senate, representing the cities of Newton, Brookline, and parts of Wellesley. She serves as assistant majority leader and co-chair of the Judiciary Committee.
Feinberg says it will still take a lot of work for this bill to pass the House of Representatives, though it does help that it left the Senate with a unanimous yes vote. Other states have recently passed similar laws, despite lobbying from chemical manufacturers. But after the years of work that went into getting the bill this far, getting it through the Senate was itself a tremendous accomplishment.
Long-term, Feinberg plans to work in Washington, DC, influencing the machinery of government for good. "I'm hoping to be a serious lobbyist," she says, "To be charismatic and passionate, and helping to get some legislation through that will really help people."
Reported by Trevor Persaud (STH'18).