BU Law Holds Symposium to Celebrate Jay Wexler's Latest Book
Wexler completed When God Isn't Green, published by Beacon Press, while on a Fulbright scholarship to teach in Argentina.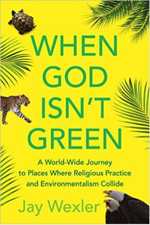 On March 28, 2016, Boston University School of Law held a symposium to celebrate the launch of Professor of Law and humorist Jay Wexler's book, When God Isn't Green: A World-Wide Journey to Places Where Religious Practice and Environmentalism Collide. For his latest book, Wexler traveled the world exploring the intersection of religion and the environment—specifically, how religious practices can cause significant damage to the environment. From Alaska, Guatemala, and Mexico in the west, to Mumbai, Taiwan, and Hong Kong in the east, Wexler sought to understand the complexity of these issues and how society can best address them.
The symposium featured a panel of scholars who shared their reflections on and questions about the book. Panelists included Paul Horwitz, Gordon Rosen Professor of Law at University of Alabama School of Law (visiting at Harvard Law School); John Nagle, John N. Matthews Professor of Law at Notre Dame Law School; and Sarah Schindler, Glassman Faculty Research Scholar and professor of law at University of Maine School of Law. Each speaker commended Wexler for his ability to mix humor and facts to address the delicate subjects of religion and the environment.
In his comments, Horwitz stressed that the key lessons of the book revolve around collaboration, accommodation, and communication. "In each chapter, there is a sense of substantial collaboration between the government and religious groups," he says. "And in each of these cases there is a willingness to collaborate between these groups to reduce environmentally harmful practices." The practice of religious accommodation, says Horwitz, is an implicit subject of many solutions employed in the book. Governments are typically interested in finding a way to preserve religious practices within the confines of environmental laws.
However, communication also plays a key role. As Horwitz notes, "in order to come up with innovative solutions, you have to ask what the practices of these religious groups are." Only by discovering these practices can governments effectively communicate the environmental risks associated with them to the religious groups. The method of communication is just as important to ensuring religious accommodations comply with the law, he stressed. Though some religious groups would be willing to liberalize their practices, if the government confronts these groups with an attitude of indifference or disrespect, many would become unwilling to cooperate and would likely continue their harmful practices.
Nagle asserted that Wexler's book confirms the value of travel scholarship, stating that it offers insights into some surprising religious beliefs and how these types of practices can have a devastating and long-lasting effect on the environment. For example, the practice of some Native American tribes, which use bald eagle feathers in religious rituals and consider it their right to take and acquire bald eagles and their feathers, or the immersion of 25-foot plaster idols of Ganesh into the sea by Hindus.
Nagle and Schindler examined Wexler's notion of the cumulative effect of small harms due to these religious practices. Wexler presents examples of individual behaviors that have a significant impact due to the number of people performing these practices. For example, "If a single person were cutting off palm fronds, there wouldn't be an issue, but large numbers of people are doing so," Schindler says, and the harvesting of these palm fronds for use in Palm Sunday celebrations has contributed to the deforestation of Central American palm forests.
Schindler also addressed the religious focus of the book and questioned whether religious actions are more like laws or norms. If they are more like norms, then governments could use education to change these practices, she noted. However, if they were more like laws, then the practices would have to be changed within the religion itself. In his book, Wexler suggested architectural solutions as the most appropriate way to resolve these issues. He gives examples such as building eco-friendly artificial pools in which to submerge the Hindu idols, and promoting natural dyes in India for religious ceremonies.
In his response to the comments and questions posed by the symposium participants, Wexler reflected on the origin of the book. "I started this book because I got into this question of bald eagle feathers and wanted to look into whether tribes had the right to collect their own eagle feathers," he said. "Should the government exempt tribes from this law and allow them to capture a few eagles?" As he completed the research, Wexler thought deeply about the question of whether religious practices should be permitted when they harm the environment. His interviews with people from religious groups and with environmentally passionate people revealed opposing reactions.
In India, he found that there was very little legal regulation on what religious groups could do in regards to their practices, but that there is an effort to work with these groups to switch to less harmful methods of worship. He also stressed the difference between practices that are closer to a norm than a law, and how this affects how a government can address the changing of these harmful practices. Through his book, Wexler demonstrates the delicate tension between the importance of these traditions to the religious communities and the efforts to prevent further harm to the environment, and asserts that in order to successfully enact change, governments must consider the effects of any regulation not only on individual religion expression, but on the entire religious community.
Reported by Erin Phelps (Questrom'16).