BU Law congratulates Professors Bridges and di Robilant, newly tenured faculty
Recognized for outstanding research and teaching, Khiara Bridges and Anna di Robilant have been promoted to professors of law.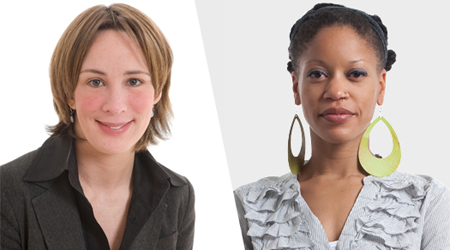 Boston University School of Law extends its congratulations to Professor of Law and Anthropology Khiara Bridges and Professor of Law Anna di Robilant, who have been awarded tenure following a consideration of each professor's contributions to teaching, research and publications, and service to the University as well as to the field of law.
Since joining Boston University in 2010, Professor Bridges has taught for the School of Law as well as the anthropology department in the College of Arts & Sciences. Recent course topics at the law school include Advanced Constitutional Law: The Fourteenth Amendment, Criminal Law, and Critical Race Theory.
Bridges has written many articles concerning, race, class, reproductive rights, and the intersection of the three. Her scholarship has appeared in the Stanford Law Review, the Columbia Law Review, the California Law Review, the Boston University Law Review, the Fordham Law Review, the Washington Law Review, and the Harvard Journal of Law and Gender, among others. She is also the author of Reproducing Race: An Ethnography of Pregnancy as a Site of Racialization (2011), published by the University of California Press. Her next book, The Poverty of Privacy Rights, is under contract with Stanford University Press.
In addition to her teaching and research, Bridges sits on the Academic Advisory Council for Law Students for Reproductive Justice, and she is a co-editor of a reproductive justice book series that is published under the imprint of the University of California Press.
Professor di Robilant joined the BU Law faculty in 2008, and regularly teaches such courses as Comparative Law and Historical Perspectives on Law, Constitutions, and Culture. Her scholarship focuses on the comparative intellectual history of property law, property law theory (in particular democratic property theory), and property law experimentalism. Her articles have been published in the American Journal of Comparative Review, the Vanderbilt Law Review, the McGill Law Journal, and the Boston University Law Review, among others. She is currently working on a book about the history of property law in Europe.
di Robilant also serves as the chair of the Property section of the Common Core of European Private Law, a project that has brought together more than 200 legal scholars and practitioners to analyze and map the connections and underlying similarities in Contract, Property, and Torts laws across Europe.
"Professors Bridges and di Robilant have demonstrated exceptional commitment to their scholarship and their students since joining BU Law," says Dean Maureen O'Rourke. "We are fortunate to have them as part of our distinguished faculty, and I look forward to working with them in what are sure to be long and successful careers."