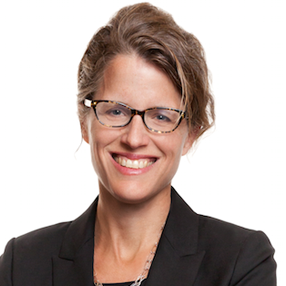 Kristin Collins
Professor of Law
Peter Paul Career Development Professor
Honorable Frank R. Kenison Scholar
---
BA magna cum laude, George Washington University
MLITT, Oxford University
MA, Columbia University
JD, Yale University
---
Biography
Kristin Collins joined the faculty of Boston University School of Law in 2006. Her scholarship focuses on citizenship and immigration law, family law, federal courts, and legal history. Recent publications include "Equality, Sovereignty, and the Family in Morales-Santana," 131 Harvard Law Review 170 (2017); "Bureaucracy As the Border: Administrative Law and the Citizen Family," 66 Duke Law Journal 1727 (2017); and "Illegitimate Borders: Jus Sanguinis Citizenship and the Legal Construction of Family, Race, and Nation," 123 Yale Law Journal 2134 (2014). Professor Collins is the senior visiting fellow at Oxford University's Rothermere American Institute for 2017–2018. In 2013–2014 she was the Sidley Austin–Robert D. McLean Visiting Professor of Law at Yale Law School and in fall 2012 held a National Endowment for the Humanities Long-Term Fellowship at the Massachusetts Historical Society.
Following graduation from Yale Law School in 2000, Professor Collins served as a senior fellow at the Institute for Democracy in South Africa in Cape Town, where she conducted research on the South African judiciary and specifically on the enforcement of constitutional norms in South Africa's courts. She clerked for Chief Judge John Walker of the US Court of Appeals for the Second Circuit and Judge Kimba Wood of the US District Court for the Southern District of New York. Following her clerkships, she practiced law with a civil-rights law firm in New York City.
Professor Collins's academic papers can be found on her SSRN page.
Publications
Scroll left to right to view all publications
Courses
Citizenship, Immigration, and the Constitution: KHC LW 104
In this seminar, we will examine constitutional questions concerning (1) the acquisition and loss of citizenship status, and (2) the privilege or right of entry into the United States. Throughout, we will consider the ethical and constitutional principles that have shaped rules governing national membership and entry into the United States. Effective Spring 2022, this course fulfills a single unit in each of the following BU Hub areas: Ethical Reasoning, Social Inquiry I, Critical Thinking.
FALL 2022: KHC LW 104 A1 , Sep 6th to Dec 8th 2022
| Days | Start | End | Credits | Instructors | Bldg | Room |
| --- | --- | --- | --- | --- | --- | --- |
| Tue,Thu | 3:30 pm | 4:45 pm | 4 | Kristin Collins | KHC | 114 |
Federal Courts: LAW JD 836
Federal Courts is a course about judicial power. In short, it helps students answer the question: What is the role of the federal judiciary in our constitutional democracy. We examine the statutory, constitutional, and judge-made doctrines that empower the federal courts, as well as those that limit their authority. What is a "case" to begin with? Are some disputes simply not cases amenable to resolution by federal judges? Who should be able to bring a case to the courts' attention? The simple answer is someone injured by unlawful conduct. But what constitutes an injury? And who decides what constitutes an injury? Who can be held accountable for injuries resulting from unlawful conduct? Should certain entities and people have immunity from suit in federal court altogether? We grapple with that question in our study of state sovereign immunity and official immunity doctrines. We also study the relationships between the federal courts and the other branches of government: Congress and the President. For example, does Congress have the power to abolish the federal courts, if it sees fit? Could it remove certain cases from the federal courts' jurisdiction, such as cases involving immigration or the Second Amendment? This course builds extensively on topics covered in Constitutional Law and Civil Procedure. It is strongly recommended for students who are interested in litigation of any sort (in state or federal court), civil rights, and government lawyering at any level, including clerking for a state or federal judge.
FALL 2022: LAW JD 836 A1 , Sep 6th to Dec 8th 2022
| Days | Start | End | Credits | Instructors | Bldg | Room |
| --- | --- | --- | --- | --- | --- | --- |
| Tue,Thu | 10:40 am | 12:40 pm | 4 | Larry Yackle | LAW | 413 |
SPRG 2023: LAW JD 836 B1 , Jan 18th to Apr 26th 2023
| Days | Start | End | Credits | Instructors | Bldg | Room |
| --- | --- | --- | --- | --- | --- | --- |
| Mon,Wed | 10:40 am | 12:40 pm | 4 | Kristin Collins | LAW | 414 |