If you're participating in ceremonies during Commencement Weekend, University-approved regalia is required.
Online ordering is available now for all degree candidates. Online ordering will be available through April 7 for campus pick-up and doctoral rentals, and through May 5 for home delivery. Please note that orders cannot be shipped to a P.O. address. Orders placed online for campus pick-up will be available beginning May 13th at the Alley in the George Sherman Union, which will be open from 11 am until 7 pm.
Orders placed before April 7 will receive free standard shipping, and in addition, bachelor's and master's candidates will receive 10 general graduation announcements while supplies last – be sure to order early to take advantage of these offers!
For those who choose not to order online, a limited selection of regalia will be available for purchase (or rented if doctoral) at the Alley beginning May 13th. While every attempt will be made to provide walk-ins with the regalia appropriate for your degree, sufficient inventory cannot be guaranteed.
Visit BU's Caps, Gowns & Announcements section of the Commencement website
Please be sure you have the right cap and gown for your degree when you pick them up.
JDs
The BU Law regalia you pick up should be red and will look like this: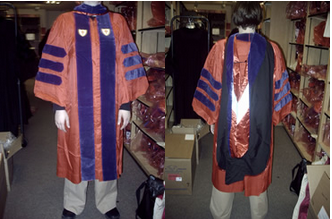 LLMs
The BU Law regalia you pick up should be black and will look like this:
Please note that all rented doctoral regalia must be returned by May 30 to avoid late charges. The University will withhold transcripts for any graduate who does not return rented regalia.