BU Law Welcomes New Faculty, Administrators
New faculty and administrators bring expertise in data privacy and cyberlaw, international law, critical race theory, financial law, and more.
The faculty of Boston University School of Law are frequently rated among the best law professors in the country and command respect as leading scholars on a variety of legal topics across many fields of law. For the 2019–20 academic year, the school is pleased to welcome a new administrator and several full-time, clinical, and visiting professors with expertise in data privacy and cyberlaw, international law, critical race theory, financial law, and more.
Full-Time Professors
Danielle Citron, Professor
Danielle Citron, a leading expert on information privacy, free speech, civil rights, and administrative law, has joined the full-time faculty of Boston University School of Law. Beginning in the fall, she will teach courses on information privacy, free expression, and civil procedure.
Citron's current projects concern the recognition of sexual privacy as a foundational privacy interest; the national security, privacy, and free speech implications of deep fakes; and the legitimacy crisis raised by the automation of agency work. Her book, Hate Crimes in Cyberspace (Harvard University Press), explored the phenomenon of cyber stalking and was named one of the "20 Best Moments for Women in 2014" by Cosmopolitan magazine.
She has authored more than 30 law review articles, appearing in the Yale Law Journal, California Law Review, Michigan Law Review, Harvard Law Review Forum, Boston University Law Review, Notre Dame Law Review, Fordham Law Review, George Washington Law Review, Minnesota Law Review, Texas Law Review, Washington University Law Review, Southern California Law Review, Washington & Lee Law Review, Wake Forest Law Review, Washington Law Review, UC Davis Law Review, and other journals.
An active member of the privacy and cyberlaw community, Citron is affiliated with the Stanford Center on Internet and Society, the Yale Information Society Project, Future of Privacy, the NYU Policing Project, and the Berkman Klein Center at Harvard Law School. She is a member of the American Law Institute and serves as an adviser to the Restatement Third, Information Privacy Principles Project. She is a member of the principals group and board of directors for the Harvard-MIT AI Fund.
Citron works closely with civil liberties and privacy organizations and counsels tech companies on online safety, privacy, and free speech. She is vice president of the Cyber Civil Rights Initiative, a group that advocates for victims of nonconsensual pornography and takes its name from Citron's 2009 BU Law Review article. She serves on Twitter's Trust and Safety Council as well as Facebook's Nonconsensual Intimate Imagery Task Force. She has presented her research at Twitter, Facebook, Google, and Microsoft.
As part of her advocacy, Citron advises federal and state legislators, law enforcement, and international lawmakers. In June 2019, she testified before the House Permanent Select Committee on Intelligence about the challenges of misinformation and deep fakes. She has presented her work at congressional briefings on online harassment and sexual violence and on the First Amendment implications of a federal cyber stalking legal agenda. She has worked on federal legislation with the offices of Congresswoman Katharine Clark, Senator Elizabeth Warren, Senator Kamala Harris, and Senator Diane Feinstein. She helped Maryland State Senator Jon Cardin draft a bill criminalizing the nonconsensual publication of nude images, which was passed into law in 2014. From 2014 to December 2016, Citron served as an advisor to California Attorney General Kamala Harris on her Task Force to Combat Cyber Exploitation and Violence Against Women.
Before joining BU Law, Citron taught at the University of Maryland School of Law where she received the 2018 "UMD Champion of Excellence" award for teaching and scholarship. She has been a visiting professor at Fordham Law School and George Washington Law School.
Jonathan Feingold, Associate Professor
Beginning in January 2020, Jonathan P. Feingold will join the full-time faculty of Boston University School of Law as an associate professor. He will teach property law, and will add evidence and critical race theory in future semesters.
Feingold's scholarship explores the relationship between race, law, and the mind sciences. Much of his recent research has interrogated how and why various American legal regimes, including equal protection doctrine, function to reinforce and reproduce racial hierarchy. His work has appeared or is forthcoming in the California Law Review, Northwestern University Law Review, Utah Law Review, and Temple Law Review. Representative publications include SFFA v. Harvard: How Affirmative Action Myths Mask White Bonus, Hidden in Plain Sight: a More Compelling Case for Diversity, Eyes Wide Open: What Social Science Can Tell Us About the Supreme Court's Use of Social Science (with Evelyn Carter), and Defusing Implicit Bias (with Karen Lorang).
From 2015 through 2019, Feingold served as special assistant to the vice chancellor for equity, diversity & inclusion at the University of California, Los Angeles and was a research fellow in BruinX, a research and development team within the Office of Equity, Diversity & Inclusion. He is the co-founder of illuminate diversity consulting, a private consulting firm that employs an interdisciplinary approach to foster inclusion through candid, data-driven conversation.
Feingold received his BA from Vassar College and holds a JD from UCLA School of Law, where he graduated with a specialization in critical race studies. After law school, he joined Sidley Austin LLP as an associate in the firm's Los Angeles office. He then clerked for the Hon. Richard C. Wesley of the United States Court of Appeals for the Second Circuit and the Hon. Dale S. Fischer of the United States District Court for the Central District of California.
In 2014, he received a California Lawyer Attorneys of the Year Award for work done in connection with Rodriguez v. Robbins, a case concerning immigrant detainees' rights to bond hearings.
LLM in Banking & Financial Law Appointment
Mary Moran Zeven, Director of the LLM in Banking & Financial Law Program
Mary Moran Zeven, a highly experienced financial services executive, has joined Boston University School of Law to lead the LLM in Banking & Financial Law Program following a nation-wide search after former Director Jim Scott retired in January 2019.
For the past 19 years, Zeven has served as the senior vice president and senior managing counsel at State Street Bank and Trust Company in Boston. In this role, she served as the global head of State Street's Sector Solutions Legal Department, the head of its US Fund Administration Legal Department, and the head of several other legal departments supporting State Street's Global Services Americas business.
Zeven initiated the company's Concierge Attorney program for all major international clients, resulting in a coordinated and consistent approach to delivering worldwide legal services. In addition, she participated in the implementation of State Street's global footprint strategy, which included expansion of services in Latin America, India, Poland and the Nordic market.
In addition to her legal, management, and global outreach experience, Zeven has been a leader in developing mentoring and training programs to support the careers of junior financial services lawyers. She developed the training program for lawyers servicing State Street's primary Global Services business line. She also created and chaired the Diversity and Inclusion Committee of State Street's Legal Division, collaborating with Boston's large firms and financial service companies to develop training programs designed to further the professional development of younger lawyers. She has volunteered her own time to mentor young professionals, as part of the company's Professional Women's Network and Senior Women's Leadership team.
A frequent presenter at industry conferences, Zeven has served on the rules committee of the Investment Company Institute and on several boards of directors. A graduate of St. John's University School of Law, she worked as a corporate lawyer at several large law firms and financial institutions in New York before joining State Street, including serving as general counsel and chief legal officer of Global Asset Management (USA) Inc.
Clinical & Experiential Faculty Appointments
Danielle Pelfrey Duryea, Director of the Compliance Policy Clinic
Danielle Pelfrey Duryea joined Boston University School of Law to direct the new Compliance Policy Clinic, which will launch in spring 2020.
Prior to BU Law, Pelfrey Duryea taught at the University at Buffalo School of Law—SUNY, where she founded the Health Justice Law & Policy Clinic. She also represented the law school across the university as assistant dean for interprofessional education & health law initiatives and served as associate director of the interdisciplinary UB Center for Successful Aging. She completed a clinical teaching fellowship in Georgetown University Law Center's Domestic Violence Clinic shortly before becoming a UB Law faculty member.
Pelfrey Duryea holds a JD and LLM from Georgetown Law and practiced in the government enforcement practice group at Ropes & Gray LLP for five years. She focused on pharmaceutical and medical device regulation and compliance, and was a founding lead for the firm's nationally-recognized pro bono medical-legal partnerships.
Before law school, she was an academic editor and PhD student in the Department of English at the University of Virginia. Her other research and teaching interests include interprofessional education and collaborative practice; health law; medical-legal partnership and law as a social determinant of health; and gender, race, and critical theory.
The Compliance Policy Clinic is one of the first in the country for law students to earn hands-on experience helping organizations navigate issues of business ethics, social responsibility, reputation management, and compliance. This one-semester clinic will allow students to collaborate with public and private sector partners across a range of industries. Students will hone their research, analytical, drafting, writing, presentation, and counseling skills while focusing on legal and regulatory issues concerning risk management, enforcement, and internal monitoring and auditing. The clinic complements BU Law's Risk Management & Compliance concentration, in which JD students learn the core legal concepts underlying compliance and their impact on business operations and can opt to specialize in corporate compliance, cyberlaw and security, financial services regulations, or compliance issues in healthcare and biotechnology.
Tiffany Li, Visiting Clinical Assistant Professor
Tiffany C. Li is a technology attorney and legal scholar. She is an expert on privacy, artificial intelligence, and technology platform governance. Li's writing has appeared in popular publications including the Washington Post, the Atlantic, NBC News, and Slate. She is regularly featured as an expert commentator in national and global news outlets across television, radio, podcasts, and print, and digital publications.
Li has been honored as a transatlantic digital debates fellow (Global Public Policy Institute/ New America Foundation), a fellow of information privacy (International Association of Privacy Professionals), an internet law and policy foundry fellow (Internet Education Foundation), and an intellectual property law fellow (American Bar Association). Li is also an affiliate fellow at Yale Law School's Information Society Project and has held past affiliations with Princeton's Center for Information Technology Policy and UC Berkeley's Center for Technology, Society and Policy.
Li is a licensed attorney and holds CIPP/US, CIPP/E, CIPT, and CIPM certifications from the International Association of Privacy Professionals. Her professional legal experience includes roles at the Wikimedia Foundation and General Assembly. She has a JD from Georgetown University Law Center, where she was a global law scholar, and a BA in English from University of California, Los Angeles.
Beatrice Maidman, Visiting Clinical Assistant Professor
Beatrice Maidman ('17) is a visiting professor in the Startup Law Clinic, where BU Law students represent MIT and BU students in various aspects of establishing and operating early-stage business ventures and protecting intellectual property.
Before joining the BU Law faculty, Beatrice practiced corporate law at Cooley LLP. Beatrice represented startup companies throughout their life cycles, from formation and day-to-day corporate governance matters through financings and liquidity events, including public offerings and mergers and acquisitions. She additionally represented venture capital investors in private financings and underwriters in public offerings.
Beatrice received her JD, magna cum laude, from Boston University School of Law, where she was awarded the Peter Bennett Prize (awarded to the graduating third-year law student with the highest grade point average for that year). She also served as a note editor on the Boston University Law Review. Prior to law school, Beatrice received her BS in Neuroscience from the University of Rochester.
Visiting Faculty Appointments
Paul Gowder, Visiting Professor
Paul Gowder is a professor of law at the University of Iowa. At BU Law he will be teaching critical race theory and 14th Amendment law, but he has also taught a number of other constitutional law courses, as well as torts, professional responsibility, and several courses involving computation, data science, and the law.
Gowder's research spans a broad territory in constitutional law, legal data science, ethics, normative and conceptual jurisprudence, political philosophy, democratic theory, and game theory. In 2016, he published his first book, The Rule of Law in the Real World (Cambridge University Press).
In his practice days, Gowder was a public interest litigator. He has practiced employment, consumer, landlord–tenant, public benefits, and family law with a low-income legal services organization in Ontario, Oregon. He has also practiced civil rights, employment discrimination, and police misconduct law in Alexandria, Virginia.
Rashida Manjoo, William & Patricia Kleh Visiting Professor in International Law
Rashida Manjoo, BU Law's 2019–20 William & Patricia Kleh Visiting Professor in International Law, is a professor in the department of public law with the University of Cape Town, South Africa, where she convenes the Human Rights Program.
Professor Manjoo has over four decades of experience in social justice and human rights work both in South Africa and abroad. Until July 2015, she held the position of United Nations Special Rapporteur on Violence against Women, its Causes and Consequences, a post she was appointed to in 2009 by the United Nations Human Rights Council. Her UN work over six years included monitoring and reporting on states' compliance in responding to and preventing violence against women, its causes and consequences, both generally and in different country contexts. She particularly highlighted the interaction of interpersonal, communal, institutional, and structural factors that negatively impact the interdependence and indivisibility of the human rights of women, and the challenges of the normative gap in international law on the issue of violence against women.
Professor Manjoo is the former parliamentary commissioner of the Commission on Gender Equality, an institution created by the Constitution of South Africa with a mandate to oversee the promotion and protection of gender equality and women's rights. She has also been involved in social context training for judges and lawyers, where she has designed both content and methodology.
She has authored several journal articles, book chapters, and reports, including the most recent coedited book The Legal Protection of Women from Violence: Normative Gaps in International Law.
Kish Parella, Visiting Professor
Kish Parella teaches courses at the intersection of law and business. Her research is in international economic law, with a focus on the cross-border governance of corporations. Her current research examines the interaction between law and reputational mechanisms to improve corporate conduct in global supply chains.
Professor Parella's scholarship has appeared or is forthcoming in Duke Law Journal, Vanderbilt Law Review, Notre Dame Law Review, Washington Law Review, and leading international law journals, among others. Three of her recent papers ("Reputational Regulation," "Improving Social Compliance in Supply Chains," and "Public Relations Litigation") have been selected for presentation at the Stanford/Harvard/Yale Junior Faculty Forum in consecutive years (2017, 2018, 2019). She has also been invited to present her research at the Annual Research Forum of the American Society of International Law, and the annual meetings of the American Law & Economics Association and the Society for Institutional & Organizational Economics. She was awarded the Washington & Lee University School of Law Ethan Allen Faculty Fellowship for Scholarship and the Lewis Prize for Excellence in Legal Scholarship by the Francis Lewis Center.
Professor Parella is a member of the board of directors for the Global Business & Human Rights Scholars Association and a member of the editorial board for the Business & Human Rights Journal (Cambridge University Press).
Professor Parella has been a visiting assistant professor at Villanova University School of Law where she taught contracts and international arbitration. Prior to entering the legal academy, Professor Parella practiced international litigation and arbitration in the Washington, DC, office of Cleary Gottlieb Steen & Hamilton LLP where her clients were multinational and sovereign entities engaged in complex disputes before US courts and international tribunals. Professor Parella graduated from Duke Law School, where she served as an articles editor of Duke Law Journal. She specialized in international law with a Master of Philosophy in international relations from the University of Cambridge, England and a LLM in international & comparative law from Duke Law School. She earned her undergraduate degree from the University of Western Ontario, Canada.
Sadiq Reza, Visiting Professor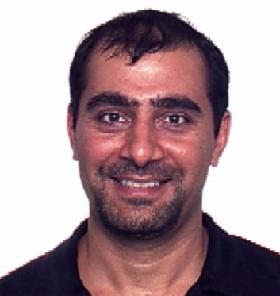 Sadiq Reza is a professor emeritus at New York Law School, a clinical instructor at Harvard Law School's Criminal Justice Institute, and a former public defender in Washington, DC. He teaches and writes on criminal law, criminal procedure, professional responsibility, trial advocacy, and Islamic law. He has taught at several Boston-area schools, including BU Law in 2008 and 2014–15. At NYLS, Professor Reza was named Teacher of the Year in 2007, and in 2010 he received the faculty writing award for his article "Islam's Fourth Amendment." He has chaired the AALS Section on Islamic Law and been named a Carnegie Scholar for his research and writing on criminal procedure in Islamic law.
Lawyering Program Appointment
Cody Jacobs, Lecturer
Cody Jacobs has been teaching legal research and writing for four years, most recently as a visiting assistant professor at Chicago-Kent College of Law, and prior to that as an Abraham L. Friedman Fellow at Temple University's Beasley School of Law where he earned an LLM in legal education. Before his time at Beasley, he was a clinical teaching fellow at SUNY Buffalo School of Law, where he taught a civil legal services clinic for military veterans.
Mr. Jacobs' research focuses on civil procedure, firearms policy and the Second Amendment, and the intersection between those areas and tort law—particularly products liability litigation. His articles have been published in several top law journals, including the University of Chicago Law Review, Southern California Law Review, and the UCLA Law Review.
Prior to entering academia, Mr. Jacobs spent a year as a staff attorney at the Law Center to Prevent Gun Violence in San Francisco. There, he tracked Second Amendment litigation, edited amicus briefs for Second Amendment cases, provided testimony for California lawmakers on firearms-related bills, and represented the organization in local and national media appearances.