Joseph Darby Publishes Practical Guide to Mergers, Acquisitions and Business Sales
An adjunct professor in the Graduate Tax Program, Darby uses his 30 years of experience in transactional law to inform the book.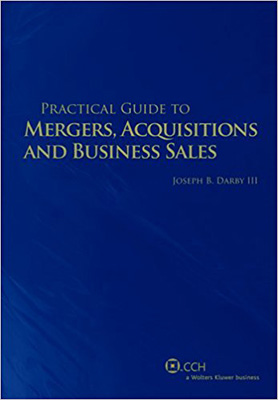 Joseph Darby, adjunct professor in BU Law's Graduate Tax Program (GTP), felt motivated to write the first edition of his book, Practical Guide to Mergers, Acquisitions and Business Sales, in 2003 when he was teaching tax and intellectual property, but couldn't find a textbook to match the class.
"I went to the library to find a book on buying and selling businesses, but there was nothing there with an easy explanation," Darby says. "I couldn't get a grasp of what was going on, so I decided to do it myself and write the book I was looking for." The book was published in 2006, and a second edition was released this year.
Darby's book became a success among his students, who found that it turned complicated matters, like the negotiations of business transactions, into simple explanations without sacrificing the essential details.
"The [GTP] director at the time was going to add a class on buying and selling businesses, and I already had my book underway, so we decided to use my book for that class," says Darby. "It's been a huge success because students find that the book gives a clear understanding of exposition."
Darby, who is also a partner in the tax group in the Boston office of Sullivan and Worcester LLP, focuses his practice on business and transactional law. He advises a variety of corporations and high-net worth individuals on the tax and legal aspects of business and real estate activities.

The second edition updates the business and tax issues that have evolved since the book's initial publication in 2006. Darby uses his 30 years of experience to inform the book. He argues that the book is not strictly made for an academic audience, but can be used for practitioners in the field as well.
"It is all about my experience over the years. I try to make it a resource, with footnotes and information, but it is also an academically strong book… It is primarily a practical guide for real life," he says.
The new edition covers buying and selling businesses as well as business mergers. Business negotiations can be a very complicated process, involving a lot of players and moving pieces. Darby emphasizes negotiations that are efficient and effective.
"Transactional business is very complicated…the practical reality is that there is a lot of cross-examination, and major issues that can affect a business deal…I talk about this in my courses and the book," he says.
When he sat down to write the second edition, Darby edited each chapter and updated the law and cases that have happened since 2006. While some chapters had only a few changes, others were completely reworked. With major tax reform legislation moving through Congress, Darby noted that in the next year or so there could be some significant changes that might require him to sit down and revise the book again.
In this edition, Darby teamed up with several of his students to help rewrite the book. Each student reviewed a chapter, with one student taking the initial review, and then a second reviewing the edits and adding another layer of corrections.
"If I had to do the editing alone, it could take me two years to do on top of my other work, and by then the first chapter would be outdated," he says. "It was a way to review the book quickly, but also allow students to contribute, edit and comprehend the issues that I was covering… it was a team effort."
Even with the updates, the 2006 edition is a valuable resource. "One of my former students from ten years ago told me that he still, from time to time, will take the first edition of the book that he has off his shelf and use it for review and a guide," says Darby.
Reported by Natalie Carroll (COM'19)
Related News