Kate Cochrane Attends Lambda Literary Writers' Retreat
Legal information librarian attends small workshops, nightly readings in retreat for emerging LGBTQ voices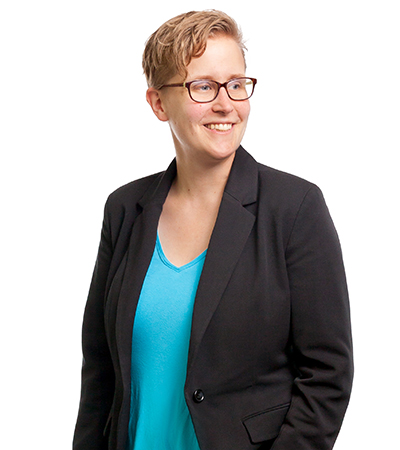 Kate Cochrane, legal information librarian with BU Law's Fineman & Pappas Libraries, has been writing ever since she was a kid, although she admits that she moved away from it as she grew up.
But it wasn't until she had children of her own that she considered writing seriously.
"I have two children, and after the second one was born, I was home with both of them and was really feeling like every day was kind of the same," she says.
"I started writing as a way to have something that was just my own, that wasn't changing diapers or that kind of thing," she says. "That… rekindled my love for writing."
In 2010, she tried the National Novel Writing Month (NaNoWriMo) for the first time. From there, she says she was "hooked."
In August, the legal information librarian took what she called "another step forward" as a writer when she was accepted into and attended the Lambda Literary Writers' Retreat for Emerging LGBTQ Voices in Los Angeles.
According to Cochrane, her friends encouraged her to apply to the competitive retreat. It certainly helped that she was a fan of retreat faculty member Malinda Lo, and says the prospect of working with a writer she admired was "enticing."
The retreat features workshops for several different genres of writing, including fiction, nonfiction, poetry, playwriting, and genre fiction—as a writer who primarily focuses on young adult literature, Cochrane participated in the genre fiction workshop, led by Lo.
At the retreat, each day consisted of morning workshops in small groups with free time in the afternoon to write and critique. The evenings were reserved for readings from the retreat participants as well as from the workshop leaders.
Every day, each of the writers was given an hour to workshop their piece with their cohort. It was a novel experience for Cochrane, who had never encountered that type of environment prior to the retreat. Although she had been working on her story for quite a while, the workshop was "completely new" to her, she says.
"My goal was really to get as much out of it as I could," she says. Receiving the feedback of the dozen other writers allowed her to progress as an author and improve her work.
Cochrane also says that being surrounded by other writers working toward similar goals was "really energizing."
"Getting to hear their work every night [at the nightly readings] … was really inspiring," she says. "It was a great experience."
While she enjoyed listening to the works of others, Cochrane says that reading her own work in front of others was "nerve-wracking." Even so, she says the experience was ultimately rewarding.
"I spent the entire week dreading reading in front of the group," she says. "That actually turned out to be a fantastic experience."
Reflecting upon the retreat, Cochrane says that she is proud of the story she workshopped about students at a boarding school who start an underground library after books are pulled from the school's collection.
Cochrane says that this story is the first instance in which libraries play an active role in her writing. Even so, she notes that "being in a setting where everyone's really enthusiastic about books" as a librarian is beneficial to her as a writer.
Her experiences as a writer also help her as a librarian, although not in a conventional sense. As an author of primarily young adult fiction, she says that while her work as a writer and her work as a legal librarian "certainly don't work at odds with each other," there might be more overlap if she worked as a "different kind of librarian."
Instead, she puts her expertise as a writer to use when consulting with students seeking advice. "When I'm meeting with students who are having trouble writing a memo or brief … I have tips and that sort of thing for editing that certainly come out of my writing experience," she says.
She says that young adult literature is her favorite genre to write because "there's something about that teenage time that I really enjoy, sort of high drama, just inherently."
As for her plans for the near future, she says she just keeps writing—and that, schedule permitting, she may participate in NaNoWriMo in November.
"There's always a new story," she says.
Reported by Kaya Williams (COM'20)
Related News