BU Law Professors Impact Local Patent Troll Legislation
Michael Meurer and Paul Gugliuzza provided input on a Massachusetts State Senate bill addressing abusive assertions of patent infringement.
Shortly before An Act Relative to Bad Faith Assertions of Patent Infringement (S.153) was introduced into the Massachusetts State Senate, the Mass Technology Leadership Council gathered representatives from the technology industry with experts in patent law to examine how the bill might impact the technology community in Massachusetts.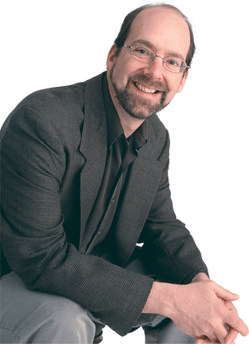 The bill addresses abusive assertions of patent infringement by non-practicing entities (NPEs), or patent trolls. One of the most egregious examples of this behavior is MPHJ Technology, which sent letters to 16,465 small business demanding licensing fees for infringement of a patent covering a process of scanning a document directly to email. Small businesses often give in to these patent demand letters, even when threats are vague and unsubstantiated, because patent litigation can be complicated and costly.
Among the experts invited to give input on the bill were BU Law's Michael Meurer, professor of law and Abraham and Lillian Benton Scholar, and Paul Gugliuzza, associate professor of law. Meurer is a well-known scholar of intellectual property and law and economics. His research has documented a rise in broadly written patents and the emergence of NPEs that take advantage of them by accusing wide swaths of people of infringement. In recent papers, he has examined the private and social costs of litigating these claims brought by patent trolls.
Gugliuzza specializes in civil procedure, federal courts, and intellectual property law, with a particular focus on patent litigation. His article, "Patent Trolls and Preemption," which was published in 2015 in the Virginia Law Review, analyzes the government's power to regulate unfair or deceptive assertions of patent infringement, concentrating on state-level statutes designed to thwart patent trolls.
"Many other states have adopted legislation like this over the past three years," Meurer says. "Until recently there were not such wide-ranging campaigns involving what seem to be frivolous patent assertions. This is a new problem and also a new response."
Since 2013, when Vermont adopted a statue addressing the problem of bad faith patent demand letters, more than 30 states have followed suit. These state-level responses have caused some concern, since patent law falls under the domain of the federal government. However, Gugliuzza argues that states are within their rights to regulate deceptive patent enforcement under consumer protection law, especially since Congress has not introduced any federal legislation to solve the problem.
"Before these statutes were adopted, it was not unusual for a company unfairly accused of patent infringement to file a tort claim in a state court," Gugliuzza says. "The statutes are really about harmful and deceptive business practices, and those are the kinds of activities that state law has long regulated."
Introduced in late January and referred to the committee on Consumer Protection and Professional Licensing, the Massachusetts bill follows a model set out by other states that have adopted this type of legislation. It outlaws bad faith assertions and provides both a private cause of action for parties facing these claims. It also authorizes the state attorney general to investigate the companies making the assertions.
The meeting offered the technology and innovation community of the Greater Boston area the opportunity to discuss their concerns about the legislation and try to come to a consensus about how the bill can best tackle the problem presented by patent trolls.
"It was an attempt among those there to find common ground," Meurer says. "Ultimately, we hoped to make sure there would not be unintended consequences that could harm legitimate patent holders doing legitimate assertions."
"Often in any meeting about patent policy the big companies that own patents are worried about anything that might constrain their ability to prosecute patent infringers, while the startups that don't rely on patents as much are worried about being the target of one of these patent assertion entities," Gugliuzza says. "I think the best thing you can do is compromise because the two sides have very different interests. During the meeting, I tried to address concerns about potential preemption and talk about other bodies of law that might limit the ability of the government of Massachusetts and its citizens to enforce a statue like this."
Related News