The Elie Wiesel Center held the 2017 Leon and Alice F. Newton Lecture in Jewish Studies at the Florence and Chafetz Hillel House on April 3. Dr. Ruth Calderon gave this year's lecture on "The Need for Religious Pluralism in Israel" to an audience filled with faculty, staff, students, and community members.
The evening began with an introduction by the Dean of the College of Arts and Sciences Ann Cudd. She gave a brief history of the lecture series, emphasizing that it was created in order to honor an alumnus of what was then the Boston University School of Management, Leon Newton. She thanked his daughter, Janet Weinberg, who was in attendance with her son, Asher Weinberg.
Elie Wiesel Center Interim Director and Professor of Hebrew, German, and Comparative Literature Abigail Gillman then thanked Dr. Calderon for traveling from Tel Aviv to speak. Professor Gillman joked that "it's the first academic lecture I organized where I found the speaker through a YouTube video," referring to her discovery of Dr. Calderon's work by watching her remarkable inaugural Knesset speech. Dr. Calderon, who is a Research Fellow at the Shalom Hartman Institute and a leading figure in reviving Hebrew culture and a pluralistic Jewish-Israeli identity, has experience that extends beyond her service in the Knesset from 2013 to 2015. She also co-founded Israel's first secular, pluralistic Beit Midrash in Jerusalem, hosted a television talk show about Jewish texts, founded ALMA: A Home for Hebrew Culture in Tel Aviv, and writes creative interpretations of Talmudic legends.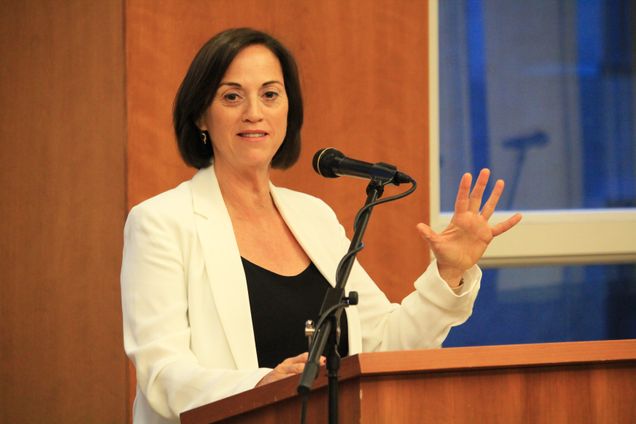 Dr. Calderon explained that her focus was not academic, but rather that she was concerned with the personal and political dimensions of "Jewish pluralism, freedom of religion, and the identity of the state." Because Jewishness comprises both state religion as well as national identity, Israel faces particular and complicated challenges with regard to freedom and pluralism.
Dr. Calderon described spiritual Zionist goals for a revival of Jewish culture in which Israel would act as a cultural center that would inspire young people choose to embrace Jewishness "because there's so many meaningful ideals, values, traditions, and rituals." For Dr. Calderon, the best product of Israeli sovereignty is the creation of a space specifically for Jews and Judaism. It was so successful, in fact, she calls the effect "the Jewish snow globe." The snow globe, she explained, means that the "totality of public space is Jewish" and allows Israelis to be completely immersed in Jewish culture. Even the graffiti in Israel, she said, requires an understanding of Jewish history to be understood.
Although she spoke of the snow globe as a beautiful experience, she also explained that it creates an ignorance of Jewish life outside of the Israeli experience. When she was young, her family moved to Australia, where she was the only Jewish student in her high school. She was shocked to find a public space that did not inherently support her faith. Additionally, when her classmates started asking questions about Judaism, she found that she didn't have answers, because Judaism was not taught to her so much as it was a lived experience.
The complications of state and religious identity exist today for Jews within Israel as well as outside of the country. "There's no equality between religious and secular, no equality between women and men, and there's no equality between Jews and non-Jews," Dr. Calderon claimed. The examples she gave were powerful: For her marriage, she and her spouse were required to have the service in Cypress, and when her parents died, her family had to hold the services privately. Both cases were because the Orthodox requirements of the state would not allow a woman to speak, for example to say Kaddish, in an official capacity.
These aspects of Israeli society result in a people who are divided. Dr. Calderon explained that the Orthodox have the loudest political voice while the majority, who are non-Orthodox, allow them to hold on to that authority. She said there is a sense that the "authentic Jew" is the Orthodox Jew. "Because we are educated to be ignorant in our own tradition," she said, non-Orthodox Jews feel unable to assert their own understandings and experiences of Judaism.
Dr. Calderon then considered the differences between North American Jewry and Israeli Jewry, observing that they seem to be drifting apart. In North America, she noted that it's possible to find a community that one identifies with, or one has the option to "go to the other room" that suits one better, but "the challenge and the beauty of the Zionist project is that there is no other room." Having "no other room" means that observance is required, even for those who would rather not, and as a result one can feel like a guest rather than at home in the land created specifically for them.
She ended her discussion by telling a midrashic story of Moses wherein he reaches the top of Mount Sinai to find God sitting and still working on the Ten Commandments. Through the story, Moses learns that God has placed hidden messages within the Ten Commandments for future generations to discover and interpret. With this in mind, Dr. Calderon explained, "The work that I do is to take the classic text and to reclaim it." She believes that Judaism—and Israel—"is waiting for the women, the non-affiliated, the secular, the religious, the reformed, the reconstructionists, and also the Orthodox" to contribute to these future interpretations.
The audience was enthusiastic to ask questions after the lecture, and then dispersed into more intimate conversation at the following reception.
You can view more images from the event at our Facebook.