In Memory of Elie Wiesel: A Day of Learning and Celebration
 Boston University
 September 17, 2017
Elie Wiesel, the Andrew W. Mellon Professor in the Humanities and Professor of Philosophy and Religion at Boston University from 1976 to 2010, passed away on July 2, 2016.
To honor and celebrate our beloved teacher and colleague, the Elie Wiesel Center for Jewish Studies, with the support of Boston University President Robert A. Brown, hosted a daylong tribute on Sunday, September 17, 2017.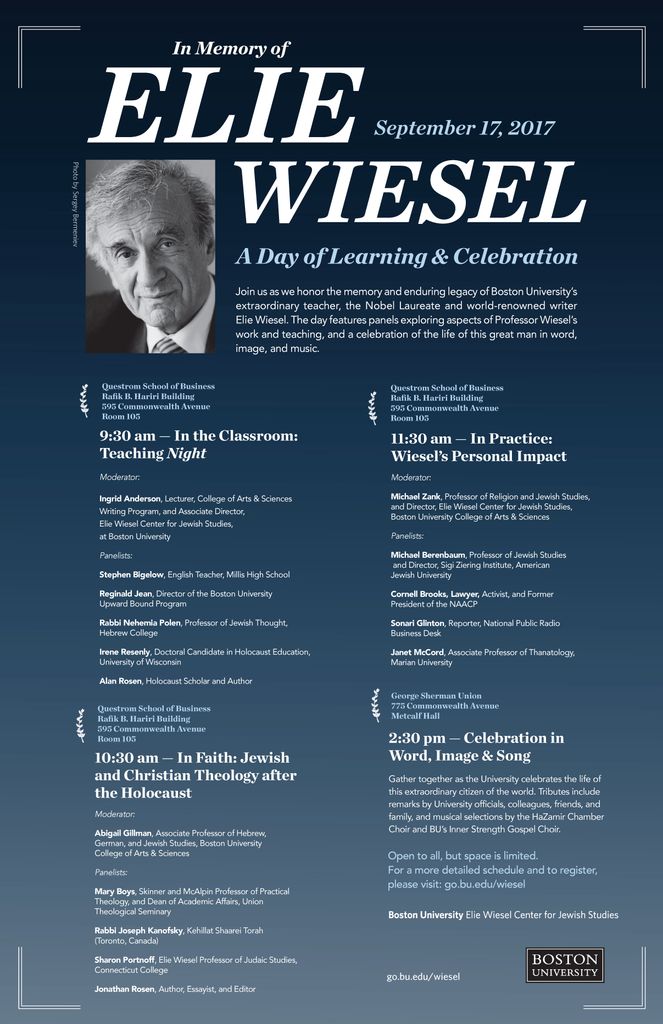 Video Documentation of the Panels and Celebration:
Panel 1: https://www.bu.edu/buniverse/view/?v=ORErL0
Panel 2: https://www.bu.edu/buniverse/view/?v=1wIxc50
Panel 3: https://www.bu.edu/buniverse/view/?v=1GjrZH0
Mark Podwal on "Forty Years of Friendship and Artistic Collaboration of Elie Wiesel": https://www.bu.edu/buniverse/view/?v=1ezGKD0
The afternoon program: https://www.bu.edu/buniverse/view/?v=rHxlN0
Photos from "In Memory of Elie Wiesel: A Day of Learning and Celebration"
Related Events
Exhibit
From the Elie Wiesel Collection at the Howard Gotlieb Archival Research Center.
11:00 am Marsh Chapel
Dean of Marsh Chapel, Reverend Dr. Robert Allan Hill, will deliver a sermon in the University Interdenominational Protestant Worship Service titled "Remembering Elie Wiesel." The service will be broadcast live on NPR/WBUR and live streamed around the globe.
June 20 – September 17: Retrospective
In the weeks leading up to our Day of Learning and Celebration, the Wiesel Center will offer a Retrospective of Professor Wiesel's literary work on social media. We are posting a new passage every day, beginning on Professor Wiesel's Yahrzeit (June 20, 26 Sivan in the Hebrew calendar). Please find us on Facebook and Twitter to follow along. Our Retrospective will be posted on the Wiesel Center website on a weekly basis.