Jewish Studies at Boston University
The Elie Wiesel Center for Jewish Studies is an academic interdisciplinary center of BU's College of Arts and Sciences with currently thirty one core and affiliated faculty.
We offer interdisciplinary programs in Jewish studies on the undergraduate and graduate levels. Undergraduate students can pursue minors in Jewish studies and in Holocaust, Genocide, and Human Rights Studies, take our courses to satisfy HUB requirements, or simply for elective credit. We work with the Graduate Program in Religion in offering a PhD specialization in Jewish Studies. Graduate students in other departments can affiliate with the Center and take advantage of our resources, provided they work in a field related to Jewish studies, Israel studies, or Holocaust history.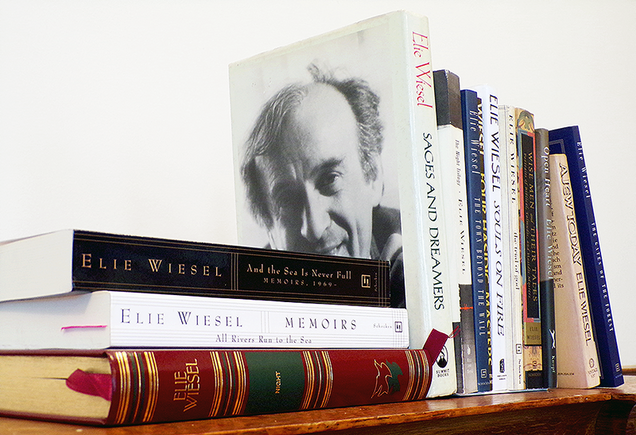 With faculty from across BU, we offer courses in literature, history, religion, language, film, anthropology, archaeology, philosophy, bio-ethics and more. We also host an array of academic conferences, co-curricular events, and public lectures. Through the Jewish Cultural Endowment, we offer assistance to other agents on campus interested in enriching the Jewish experience at BU.
Named for Elie Wiesel, the 1986 Nobel Laureate for Peace and a member of the BU faculty for nearly forty years, we strive to maintain his legacy of excellent teaching and scholarship.
---
Academic programs:
– We offer undergraduate minors in Jewish Studies and in Holocaust, Genocide, and Human Rights Studies.
– Prospective graduate students interested in Jewish Studies at BU should contact the Graduate Program in Religion (GPR).
---
Research and publications:
– We support academic research projects directed by core and affiliated faculty through funding and the organization of lectures, seminars, and conferences.
– We support faculty-authored publications.
---
Arts and culture:
Our building at 147 Bay State Road serves as a cultural hub on campus, where we host public lectures, workshops, salon events, and artistic productions.
Boston University has a distinguished history in Jewish studies. Visiting and resident faculty included such luminaries as Gershom Sholem, Nahum N. Glatzer, Marvin Fox, Everett Fox, and Michael Fishbane. From Elie Wiesel and the late Saul Bellow to current creative writing faculty Leslie Epstein and Robert Pinsky, Jewish authors have long been at home on campus.
The Elie Wiesel Center is housed at 147 Bay State Road, in one of BU's most elegant historical buildings. Constructed in 1899, the former Weld family mansion is now the Bet Shlomo v' Sarah Wiesel, named in honor of Elie Wiesel's parents.
---
Community support:
Thanks to the generosity of our donors, we are able to offer scholarships for undergraduate and graduate students, including opportunities for study in Israel. Your support also allows us to keep our lectures, seminars, and cultural events free and open to the public.
To learn how you can support Jewish studies at BU, please contact us at 617.353.8096, or ewcjs@bu.edu.