Biblical Exegesis as Political Critique
October 3, 2018
Post-doctoral research fellow Dr. Alexandra Zirkle (PhD University of Chicago, 2016) presented about her current work examining nineteenth-century German-Jewish biblical exegesis as an expression of political self-assertion in the age of romantic nationalism. The talk was held from 2:30 to 4pm at the Elie Wiesel Center library. Prof. Susannah Heschel (Dartmouth College) responded to the lecture.

---
Auschwitz as a "Teachable Moment"? The Holocaust in German Civic Education in Multicultural Context
January 30, 2019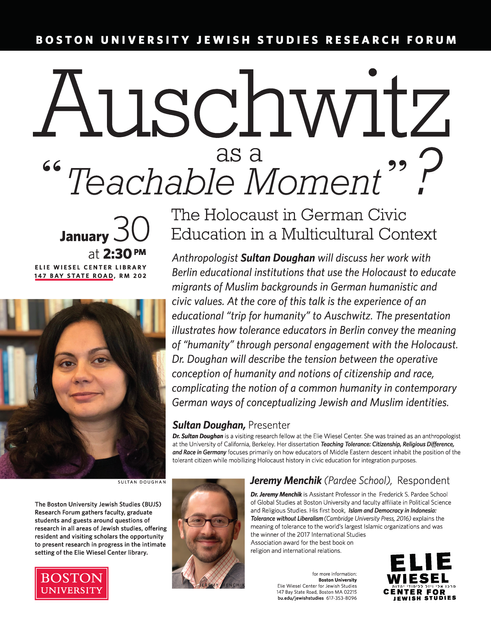 This Research Forum featured the research of Elie Wiesel Center for Jewish Studies Visiting Scholar Sultan Doughan. Dr. Doughan just completed her PhD in anthropology at UC Berkeley where she was a student of the late Sabba Mahmood. She was joined by respondent Jeremy Menchik, Assistant Professor of International Relations at the Frederick S. Pardee School of Global Studies.
Dr. Doughan discussed her work with Berlin educational institutions that use the Holocaust to educate migrants of Muslim backgrounds in German humanistic and civic values. At the core of this talk was the experience of an educational "trip for humanity" to Auschwitz. The presentation illustrated how tolerance educators in Berlin convey the meaning of "humanity" through personal engagement with the Holocaust. Dr. Doughan described the tension between the operative conception of humanity and notions of citizenship and race, complicating the notion of a common humanity in contemporary German ways of conceptualizing Jewish and Muslim identities.