#BUandBoston: Interview with Advocacy Director of Boston Climate Action Network Hessann Farooqi
This post is part of our #BUandBoston series, highlighting the work and research of BU students, faculty, and staff throughout the City of Boston and the Greater Boston region. Interested in having your Boston-related work featured? Tag us on Instagram or Twitter (@BUonCities) using the #BUandBoston or send us an email at ioc@bu.edu.
By Sean Waddington & Ting Wei Li

Photo Credits: Ting Wei Li, Boston University Student Government, Boston Climate Action Network
The Initiative on Cities recently sat down with Hessann Farooqi (CAS '22), the Advocacy Director of the Boston Climate Action Network (BCAN). BCAN is a volunteer-based organization focusing on affecting local climate policy through advocacy work and developing toolkits to tackle environmental issues. Farooqi serves as the sole full-time staffer for the non-profit, leading all functions from finance and human resources to advocacy and organizing.
BCAN's broad coalition of volunteers has grown since the 2000s, encompassing a multi-racial and multi-generational base of supporters ready to mobilize for the organization's various campaigns. Farooqi told us that BCAN has a "strong focus on the built environment," given that a vast majority of greenhouse gas emissions in the City of Boston come from buildings – as high as 70%. The organization is working to influence the regulation and monitoring of building emissions. Currently, BCAN is narrowing in on BPS buildings and residential units. The goal is to efficiently and justly target emissions sources while protecting vulnerable communities disproportionately impacted by climate change.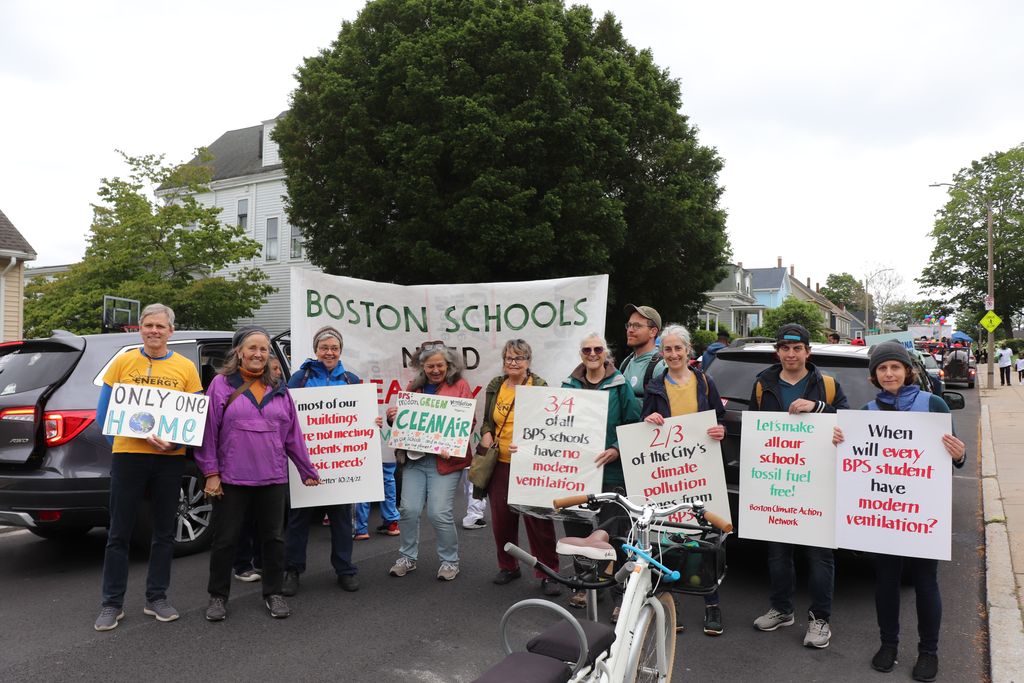 A major victory for the coalition came with the passage of BERDO 2.0 in the City of Boston. The 2021 strengthening of the Building Emissions Reduction and Disclosure Ordinance will implement the major goals of BCAN's emission reduction activism. Farooqi described the ordinance as a "skeleton" to which policymakers and advocates can build to enact real change. With BERDO 2.0 in place, BCAN is working with other community organizations to fill out the framework with authoritative policies and exemptions to limit building emissions while protecting vulnerable building owners and businesses. Farooqi was particularly excited about the Equitable Emissions Fund and its potential role in climate justice. Buildings that miss their emissions targets will pay a fine that goes to this fund which will, in turn, be used to retrofit and renovate buildings to be energy efficient and green. BCAN is focused on ensuring buildings and homes are "green, healthy, and affordable."
Farooqi now works directly with the Mayor's Office and City Council on championing green causes, but just a short time ago, he was a BU student running down Commonwealth Ave with coffee and a reusable water bottle plastered with stickers at hand to get to class. We were interested in how his time at BU has impacted his ability to lead BCAN. As a student, Farooqi worked on communications for BU Sustainability–a formative experience developing his interest in environmental activism and advocacy. He described Boston University as a small city within a larger city, with diverse residential and academic buildings, transportation systems, food programs, and more. At BU Sustainability, he learned how the university could use its operations to further its climate goals and how individuals can make a difference: he worked to spread the message on an initiative at BU Sustainability where students can donate used items and save dorm items from landfills.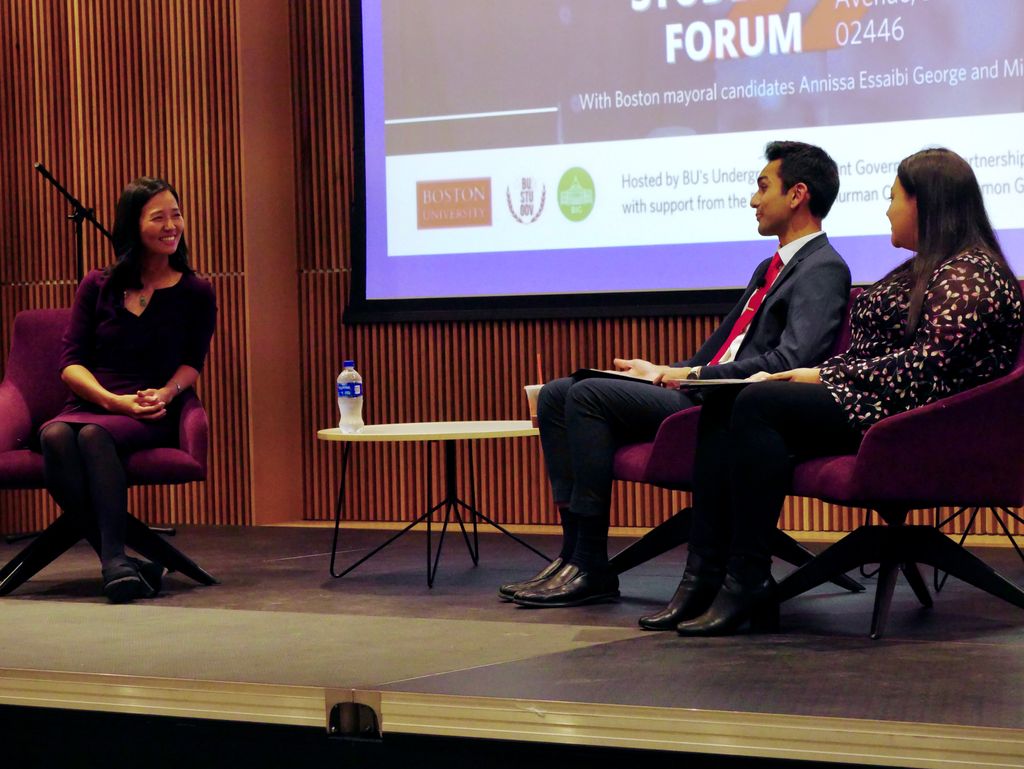 Besides his work at BU Sustainability, Farooqi also cites his time in Student Government as influential in growing his organizational and advocacy skills. As Student Body Vice President from 2021-2022, Farooqi led an organization akin to a non-profit. With Student Government's 200+ members and volunteers strong, his job was to keep people focused and engaged within the BU community while also connecting the community with policymakers and other communities at large. His work in bringing together Boston mayoral candidate finalists Mayor Michelle Wu and Annissa Essaibi George (CAS '96) for a student-led forum, as well as engagements with State Representative Andy Vargas (Pardee '15) and former State Senator Sonia Chang-Diaz, exemplifies his efforts to connect policymakers with the BU community. His belief in bridge-building from his time in Student Government across campus became a pillar of his strategy at BCAN in connecting disparate groups in the Boston area.

Farooqi described his "inside/outside" organizing strategy as emphasizing connections with people of all stripes. A vital part of BCAN's success is its partnerships with well-established state organizations and lesser-known frontline organizations embedded in communities. He encourages those in the BU community, like students, faculty, and staff, to join BCAN to further its work in climate justice. BCAN Events & Development Associate Ella Donahue (CAS '25) and BCAN Board of Directors member Izzy Watson (Wheelock '23) have been working hard with Farooqi as BU voices advocating for environmental justice in the Boston area. 
Working in advocacy does come with its set of challenges. Farooqi has a lot on his plate as the staffer for BCAN. This line of work involves political maneuvering, often unpredictable and out of his control. Farooqi has to learn to continually adapt, whether day by day to political crises or year by year with new administrations; he makes the point that there are still so many rewards for public service. Particularly on the point of pay, he reminded us that the initial pay you receive isn't the end. There's room to grow and negotiate: the more people that join the field and advocate for better pay, the better.
Farooqi had some advice for those like him who want to pursue a career in making change for the better: "Find an issue you really care about and think about the work you've done more broadly than the classroom." He's found that the major you chose and the words on your degree matter much less than when you are in the field. Farooqi was an Economics major, and while he finds himself applying the background he received with that education, he now sees much broader ways he can affect change. His second tip is to pay attention to who is already doing the work you're passionate about and support them. Whether through a job, internship, or volunteer opportunity, taking action and getting involved is important. Having peers who had gone into the private sector, he understands the limitations and stresses unique to public service; Farooqi himself entered the private sector before seeking his current role at BCAN. His final words to young professionals are to "be patient, put effort and attentiveness into what they want to do, and stay in the fight."